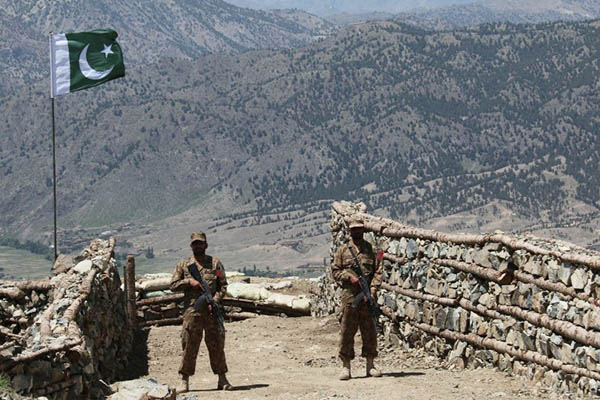 PESHAWAR: A terrorist was killed and six others were arrested during an intelligence-based operation (IBO) in North Waziristan tribal district on Friday.
According to the Inter-Services Public Relations (ISPR), the security forces conducted the operation in Hassukhel area of Mir Ali tehsil. The ISPR said a cordon and search operation was held to eliminate any other terrorists found in the area.
Terrorist attacks on security forces in Waziristan region have increased recently which have created an atmosphere of concern among the people. The security forces have also stepped up IBOs to target terrorists.
On September 07, two soldiers were martyred in an improvised explosive device (IED) attack in North Waziristan.
According to the ISPR, the security forces were conducting an area clearance operation in Dosali area when they were attacked with an IED. The martyred soldiers were identified as Sepoy Zia Akram, 25, resident of Muzaffarabad, and Sepoy Musawwar Khan, 20, resident of Bajaur tribal district.
Following the IED attack, the Pakistan Army troops cordoned off the area to apprehend the terrorists involved in the attack. The ISPR said that during the intense exchange of fire, one of the terrorists, who was trying to flee, got killed.
On August 30, a soldier, died in a terror attack in South Waziristan. According to ISPR, a soldier was martyred in an IED attack in South Waziristan. The security forces were conducting a clearance operation in Asman Manza area when they came under attack.
The martyred soldier was identified as Sepoy Wajidullah, 25, resident of Karak. The ISPR said the security forces cordoned off the area and killed one terrorist.
On August 27, an IBO was conducted in Spinwam area of North Waziristan. During intense exchange of fire, one terrorist got killed. Weapons and ammunition were also recovered from the killed terrorist.
The same day, a cross-border attack was reported from North Waziristan, in which a solider sustained injuries. Official sources said militants based in Afghanistan attacked a check post of the security forces in Dattakhel. The security forces retaliated after which the terrorists escaped.
On august 26, a soldier was martyred in a cross-border attack on a military check post in Lower Dir.
Hits: 0