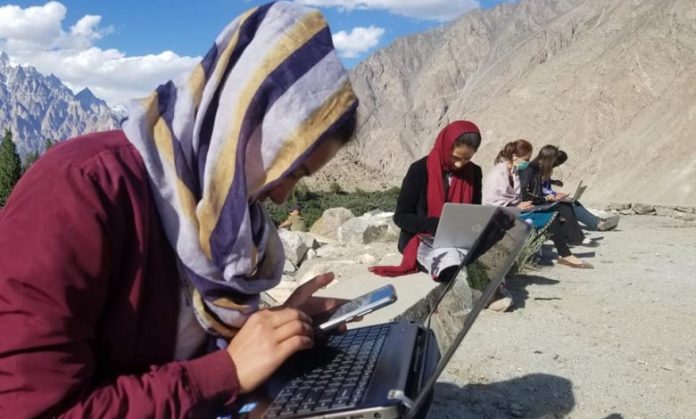 Rani Andleeb & Sidra Ayan
PESHAWAR: When educational institutions were closed first time due to coronavirus lockdown, Malaika was very happy and she thought she would go to uncle's home in Lahore and have fun.
But she couldn't go anywhere due to lockdown and was confined to home. Malika, who is a 10th grade student in Wazirbagh area of Peshawar, is not happy over her school's closure this time and she is worried about her academic future. She told TNN that her education was impacted badly after closure of her school as she cannot study at home due to lack of enabling environment and her parents cannot afford to arrange expensive private tuition for her.
Although Malaika was promoted to next grade without exam, but she understands that this is not the way forward and she would not learn properly if things continued in this fashion. Many other students like Malika are worried about their future.
Maliha from Sheikh Maltoon Town Degree College of Mardan says the closure of her college has stopped her learning process. She says she has to work more at home after closure of college.
"I have to use mobile phone of my father for online classes, but he often remains out of home for work and I miss my classes," she told TNN.
Maleeha says even a 10-minute regular class is better than one-hour online class, because the regular class includes direct question-answers and group discussions, while in online classes the student face problems of internet network disruption. She says most people think that students are enjoying vacations, and they don't understand that actually they had to work even harder for online classes.
Teachers' opinion
Teachers also seem to be unhappy over closure of schools and they say closure is more damaging for girls than boys.
Saadia, a schoolteacher from Landi Arbab area of Peshawar, says closure of schools for third time has impacted the education of students badly particularly in rural areas where there is problem of internet connectivity and facility of tuition is also not available.
Saadia fears that the study of students would be affected more if vacations are extended further.
Government's point of view
The closure of educational institutions is certainly not a good option, but officers of education department consider it the need of hour.
District Education Officer (Female) Peshawar Samina Ghani says educational institutions are closed in Peshawar and rest of KP in order to protect the students from coronavirus.
Samina Ghani says closure of schools seems to be the best option at a time when coronavirus is spreading rapidly among people of all age groups throughout the country. She says parents must pay equal attention to education of girls as they do in case of boys.
Hits: 1