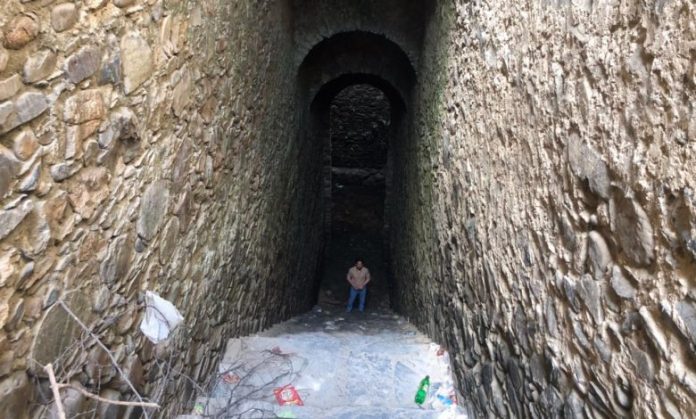 Anwar Zeb
NOWSHERA: The hundred years old bowly situated on the right side of the unpaved road leading towards the tomb of eminent saint Kaka Sahib in Esori Bala area of Nowshera still exists in its original form.
Bowly is a large usually rectangular sunken pool or well previously found in different parts of Sub-Continent that served as a public water supply and a resting place. Now very few bowlies exist in Pakistan and India and that too in different shapes.
The bowly in Nowshera was built by Mir Aslam Khan Khattak a hundred years ago. Mir Aslam Khan was an eminent business and social personality who had invited experts from Nagpur area of India for building this lovely structure. The bowly in Nowshera is famous as Mir Aslam Khan Bowly.
Samed Khattak, a local resident who takes interest in historic places, said while talking to TNN that this bowly was established during a period from 1895 to 1910. A local person had donated land for the bowly and its purpose was to provide water for the devotees coming to the mausoleum of Kaka Sahib. He said there were about five or six bowlies in Nowshera, but only Mir Aslam Bowly exists in its original form.
Local stone cut in same sizes with expertise has been used in construction of the bowly. There is a 12-foot entrance gate, while there is a separate pass-way for those willing to go downstairs. One has to step down 64 stairs for reaching water level of this bowly.
History books mention that the first bowly in Sub-Continent was built from 1210 to 1236 during the reign of Sultan Shamsuddin Altamash near the tomb of Qutb Shah in India. There were four kinds of bowlies in Sub-Continent and most of these were built at places frequently used by travelers to ensure provision of drinking water facility for them. There were eight bowlies in Peshawar and Nowshera around GT Road, and Chamkani Bowly was the most famous. Bowlies also existed in Tarnab, Azakhel, Awai, Akora Khattak, Adamzai and Jehangira, but none of these exist in its original form.
Local journalist Shehzad Ahmed says Mir Aslam Khan had established different bowlies from Attock to Peshawar. He said the bowly in Nowshera is 91-foot deep which is a historic asset. He said efforts were made to damage the bowly few years ago, but the government took timely action and saved it. He said water is available in the bowly but it is polluted and unusable. He said the commuters and tourists throw different items in the bowly due to which its water is now unusable. He said the government should take steps to clean the bowly.
Hits: 1