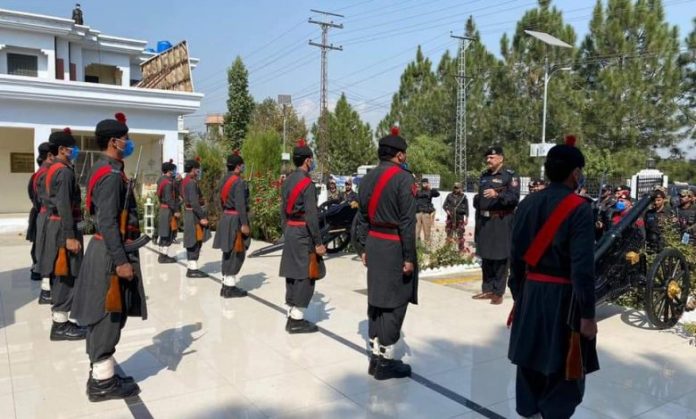 BUNER: As many as 12 police personnel from Bajaur tribal district, who were receiving training in Buner, have been diagnosed with coronavirus infection.
The infected police personnel have been called back to Bajaur from Buner and they have been asked to quarantine themselves at their homes until they fully recover.
District Police Officer (DPO) Bajaur Shahzada Kokab told media representatives that 150 Levies personnel from Bajaur, who have been recently integrated into Khyber Pakhtunkhwa Police, are receiving police training in Daggar area of Buner. He said coronavirus tests of some personnel were conducted after they developed symptoms, and 12 tests came back as positive.
The DPO said corona tests of all the personnel were conducted after the development. He said the infected personnel have been asked to isolate themselves at their homes.
Some personnel at the training centre said on condition of anonymity that they made several requests to the concerned officials to make arrangements for treatment of personnel who were not feeling well, but no heed was paid at that time. They said coronavirus spread in the training centre due to lack of timely treatment and non-adherence to precautionary measures.
The trainees said six personnel are made to live in a single room, and it is feared that more personnel will contract coronavirus. They warned that the situation may go from bad to worse if precautionary measures were not adopted and arrangements are not made for prevention of coronavirus spread.
Last week, the district administration in Bajaur had to impose smart lockdown in two areas after increase in coronavirus cases.
According to a notification issued by the administration on Saturday, smart lockdown was imposed in Naway Killi and Alizai areas of Khar, the main town of Bajaur, as the number of f coronavirus cases in these areas witnessed an alarming increase. The administration said the restriction was imposed in consultations with local health officials to prevent further spread of coronavirus in the tribal district.
The notification said police officials were directed to strictly implement the smart lockdown by not allowing the villagers to come out of their areas. Coronavirus is spreading fast in the region mainly due to non-observance of precautionary measures.
Hits: 9