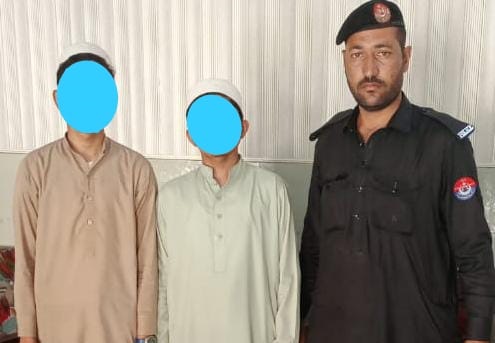 NOWSHERA: Nowshera Police has arrested two youth accused of gang-raping a 14-year-old boy in Akora Khattak area.
Police said the victim, a resident of Khairabad area, came to police station on Monday night and said to boys sexually abused him. The officers of Akora Khattak Police took immediate action, conducted several raids, and arrested the two accused, Haroon and Zain.
Police said the accused during initial interrogation confessed to their crime. The accused were produced in local court on Tuesday which handed them to police for two-day remand. Further investigation into the case is underway.
Sexual abuse of children is continuing in Khyber Pakhtunkhwa and rest of country despite introduction of strict laws by the government to punish the culprits. Increasing incidents of sexual abuse in KP have left the parents extremely worried and they remain fearful even while sending their children to schools and madrassas.
On May 26, Nowshera Police arrested an accused allegedly involved in sexual assault on a six-year-old girl.
Police said a resident of Akora Khattak lodged a complaint along with his six-year-old daughter that he was going to mosque for prayer when he noticed cries of his daughter from a nearby under-construction house. He alleged that when he went there, he saw the accused, Sher Khan, trying to sexually abuse his daughter. He said the accused escaped from the scene after seeing him.
Many people believe that the incidents of sexual abuse of children are not stopping because culprits are often let off the hook. Imran Takkar, a child rights activist, said the role of police in arrest of such culprits is good, but the procedure of punishment to culprits must improve. He said it is a positive development that the awareness level among parents about safety of their children has increased. However, he said, parents had to go for work and they can't keep their children under watch all the time. Therefore, he said, children must also be given awareness about the sensitive issue.
Sahil, an NGO working for rights of children who become victim of sexual violence, said in a report that 4 percent increase was witnessed in children sexual abuse incidents in 2020 as compared to 2019 in Pakistan. The report claimed that average eight children become victim of sexual abuse in Pakistan every day. The report said most of the culprits involved in sexual abuse of children are relatives or other close people who are already known to family.
Imran Takkar said Sahil report has only taken into account the media reports, while several other sexual abuse reports are either not reported by the victims or not shared by police with media. He said that according to police report of previous year, 323 sexual abuse incidents were reported in Khyber Pakhtunkhwa in 2020, which is an increase of 75 percent from 2019.
Hits: 0