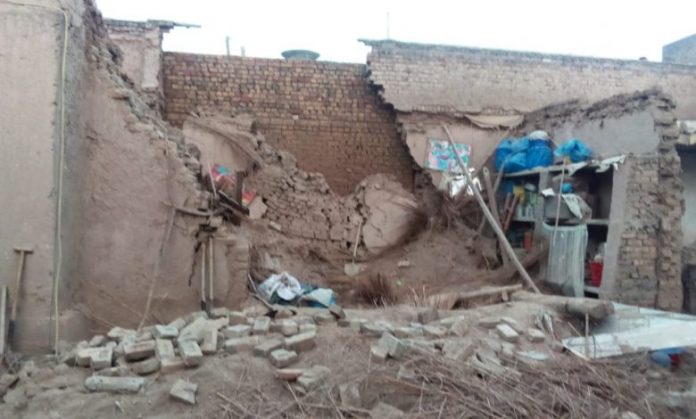 NOWSHERA: Two children of a family lost their lives and three other persons sustained injuries when roof of their house collapsed in Taru Jabba area of Nowshera on Thursday.
According to Rescue 1122, the incident happened early in the morning in Taru Jabba near the police post. The Rescue 1122 personnel after receiving information immediately reached the site of the incident and started rescue activities. The rescue personnel retrieved bodies of two children, while their mother and two girls were rescued in injured condition. The injured persons were taken to hospital for treatment.
Sources said the incident happened at the house owned by Qari Adnan. The cause behind the roof collapse was being investigated. It is believed that the house was in dilapidated condition and it was further weakened in recent rains.
Several roof-collapse incidents routinely happen in KP which causes deaths and injuries. Poor families have to live in mud made houses which are prone to damage during harsh weather, particularly during heavy rains.
On March 01, two persons lost their lives when roof of a house collapsed in Hangu.
Local sources and police said that the roof of a dilapidated house, which was affected by the rains, collapsed suddenly in Hangu, burying at least five persons under the debris. Rescue teams reached the site of the incident and retrieved two bodies from the rubble and rescued three other persons in injured condition. The bodies and the injured were shifted to hospital.
On February 21, A girl lost her life and four other family members sustained injuries when roof of their house collapsed in Sabqaddar tehsil of Charsadda.
Police said the roof of the house owned by Mohammad Azam, who works as a labourer in Saudi Arabia, collapsed in Mansooka area on the outskirts of Shabqaddar Bazaar when they were sleeping in the night. A 14-year old girl Zainab died on the spot, while her mother, a 12-year-old sister, an 11-year-old brother and a 10-year-old sister got serious injuries. Two minor girls escaped unhurt in the roof collapse. The bodies and the injured were retrieved from the rubble and shifted to hospital.
Hits: 0