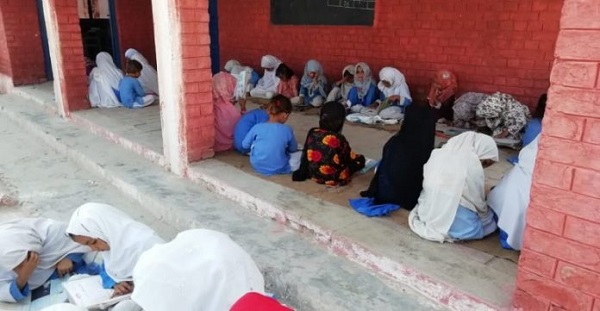 WANA: In a shocking development, it has emerged that most of the 22 female teachers of Government Girls Higher Secondary School Dabkot in South Waziristan tribal district are only middle pass.
Government Girls Higher Secondary School Dabkot is situated about two kilometres from Wana FC Camp in South Waziristan in which about 600 students are enrolled. Local sources said as many as 22 female teachers had been appointed in the school by Elementary and Secondary Education Department of Khyber Pakhtunkhwa.
Out of these teachers, three remain present on duty, while the remaining teachers, who are just middle passed, were appointed temporarily, and nowadays they are attending matriculation exam. Out of three available teachers, two run their shops in the school.
Two students, Rema Khan and Khursheed Shahzad, said the school teachers are busy in their matriculation exams and no other teachers are available for classes. They said they are sitting in their classes for the last several days without any lecture.
The sources said the watchman and other class-4 employees of the school often remain absent from duty. The local people said the provincial government makes claims about promotion of education, but the situation on ground in schools in merged districts is presenting another picture. They demanded the chief minister and education department to take notice of the matter and resolve the issue without delay.
330 doctors appointed in merged districts
The KP government has completed recruitment process of 330 doctors in merged tribal districts.
The newly appointed doctors include 26 specialists, while 491 nurses and 452 paramedics have also been appointed. Chief Minister Mahmood Khan said in a tweet that the KP government is committed to improve health services in merged districts. He said that this induction would put an end to shortage to medical staff in merged districts.
The advertisement of 74 specialists, 166 emergency medical officers and 49 medical officers would be published soon.
Meanwhile, Special Assistant to Chief Minister on Industries and Commerce Abdul Karim Khan said interest free loans up to Rs1 million would be provided to traders that are affected by coronavirus pandemic. He said modus operandi for the scheme would be finalised in August.