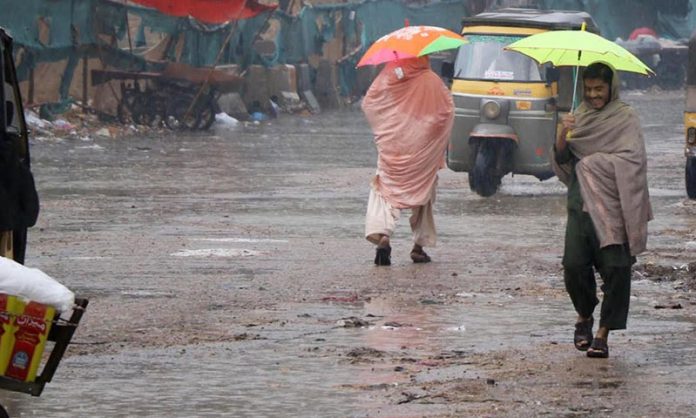 PESHAWAR: Rain is continuing in different parts of Khyber Pakhtunkhwa including Peshawar with intervals which has caused water accumulation on roads and business activities have also been affected.
Continuous rains have brought down temperature which has brought back the winter which was on its way out. Heavy rain is termed good for crops and trees, but people living in mud-made houses are feeling the pressure as continuous rains may damage their houses. Heavy rains are also putting pressure on the electricity system and hundreds of feeders have tripped.
A spokesman for the Peshawar Electric Supply Company (Pesco) confirmed that 299 feeders have tripped in KP, including 74 from Peshawar circle, 72 from Khyber circle, 60 from Bannu circle, 18 from Mardan circle, 20 from Swabi circle, 19 from Hazara-1 circle, 15 from Hazara-2 circle and 21 from Swat circle.
Cold weather returns in Lower Dir
According to reports received from Lower Dir, heavy rain has turned the weather cold and it is expected to increase further as more rain is expected during the next 23 hours.
TNN correspondent reported that rain is continuing in Lower Dir for third consecutive day. Roads are blocked due to land sliding, while power supply is also disconnected in some areas for the last 20 hours.
Water level has increased in Panjkora River, while rainwater has also accumulated on GT Road Timergara due to which the commuters and transporters are facing difficulties.
Rainwater enters residential areas
Heavy rain has turned the roads and streets of Amangarh in Nowshera into pools and rainwater has entered houses of people in residential areas which has caused massive losses to people.
The local residents have said they would be compelled to hold protest if the government did not come to their help immediately.
Water level in Tochi River increases
Water level in Tochi River of North Waziristan tribal district has increased after three days of rain and the areas of Eidak, Zerki, Hassukhel, Haiderkhel and Tochi have come under threat if the water level further increased.
The local people have demanded the government to declare emergency in the area and come to rescue local people.
Bahrain-Kalam Road blocked
The Bahrain-Kalam Road has been blocked as a glacier collapsed in Laikot area of Kalam on Tuesday.
Rain is continuing in Swat for the last three days, while snowfall is continuing in in Kalam and Malam Jabba.
Hits: 0