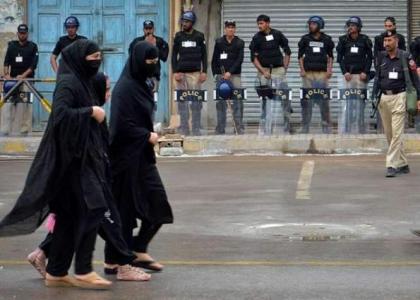 PESHAWAR: The Khyber Pakhtunkhwa government has deputed over 33,000 police personnel for fool-proof security during Muharram.
This was told during a meeting chaired by Chief Minister Mahmood Khan on Monday. The meeting was told that about 585 processions and 5,000 Majalis would be held across the province. Seven districts have been declared sensitive from security point of view.
The meeting reviewed overall law and order situation in the context of the evolving scenario in Afghanistan, with special focus on security arrangements during Muharram, and made a number of important decisions to this effect.
The meeting was told that Ulema of different sects had been fully engaged at provincial, divisional and district level in order to ensure sectarian harmony during Muharram. Stern action is being taken against those involved in publishing hateful content on social media.
The meeting was further informed that arrangements have been made to ensure strict monitoring of hotels and other places around Imambargahs and traditional routes of Muharram processions. It was decided to suspend mobile phone networks on 9th and 10th of Muharram in sensitive districts of the province.
Mahmood Khan stressed the need of implementing coronavirus standard operating procedures (SOPs) in Muharram processions, and directed the authorities concerned for necessary steps in this regard. The chief minister directed to cancel leaves of hospital staff in all the sensitive areas during Muharram. He also directed to ensure suitable arrangements for the accommodation of police staff of other districts deputed for security purpose in Peshawar. Policemen have also been called back from different trainings for Muharram security duty.
The chief minister said any situation in the neighbouring Afghanistan had direct impact on KP, and the prevailing situation needs to have extraordinary security arrangements. He said that police and other law enforcing agencies are required to be more vigilant and proactive amid increased challenges.
Mahmood Khan directed the police department to continue action against anti-social elements more effectively and to have a closer coordination with intelligence agencies. He termed maintenance of law and order as the foremost responsibility of the government and, said the provincial government would ensure all the necessary measures to ensure security.