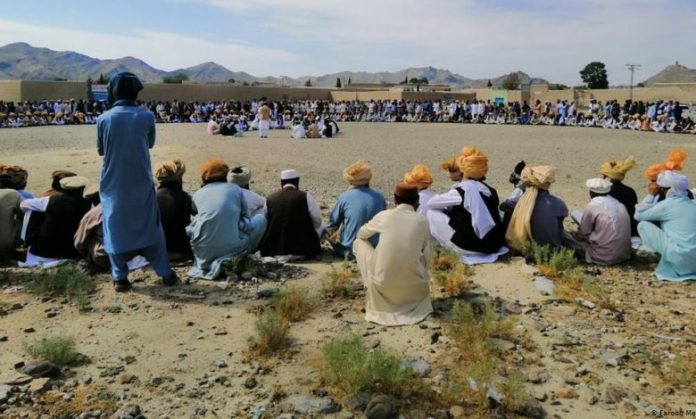 WANA: Inspector General Frontier Corps (FC) South Major General Umar Bashir has said that work is continuing on restoration of mobile phone network in South Waziristan tribal district, and 35 towers of mobile network will be installed in Mehsud areas during the next six months.
He said work on headquarters in Spenkai Raghzai will commence soon. He said work on development projects and survey of damaged houses in areas inhabited by Mehsud tribe is also continuing with rapid pace.
This he stated during a Jirga with elders of Mehsud tribe, retired civil and military officials at FC headquarters in Wana. Major General Umar Bashir said it is a matter of great satisfaction that Mehsud tribe has unanimously agreed for the site in Spenkai Raghzai for establishment of district headquarters. He said the government will finalize the site and start work on it soon. He assured that the commission to settle boundary disputes will work completely in an impartial manner and parties to dispute will get justice.
At present, the headquarters of South Waziristan is in Wana, upon which the people of Mehsud tribe have objections that it is in the area of Wazir tribe. Mehsud tribe inhabits 75 percent area of South Waziristan, while 25 percent area is inhabited by Wazir tribe.
The Mehsud tribesmen also expressed reservations about the census results and said different institutions have different figures which has made the matter a complex issue. The IGFC assured that he would discuss the issue of previous funds of Mehsud areas with relevant quarters. The development funds of Mehsud tribe were reportedly diverted to other areas when the people of the tribe were not present in the area for 12 years due to displacement. He said the government is resolving the issues of Mehsud tribe on priority basis and work on development projects is continuing with a rapid pace.
Major General Umar Bashir said 12 teams of the district administration are carrying out survey of damaged houses. He said the government is focusing more on less developed areas.
The Mehsud tribesmen assured full cooperation to the government in development initiatives and other steps.
Hits: 0