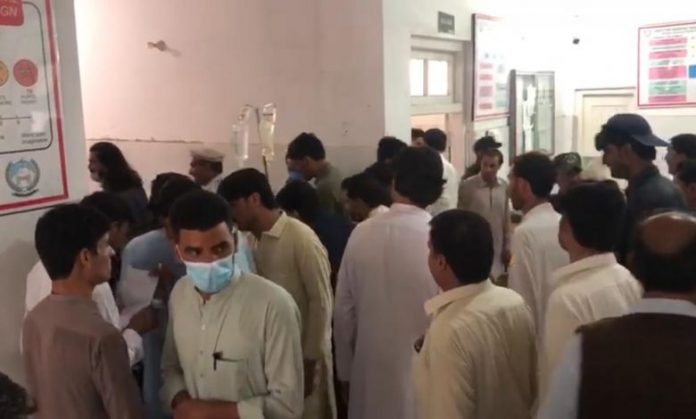 SADDA: Six persons lost their lives and 11 others sustained injuries in firing between two rival groups over a land dispute in Kurram tribal district on Thursday.
Police said there was a long standing land dispute between rival tribes in Sher Jan Killi near Mahora in Lower Kurram. On Thursday, the people of two groups came across each other, exchanged hot words and then opened fire due to which six persons lost their lives and 11 others were injured. The deceased persons include three each from both groups.
The injured persons were taken to Parachinar Hospital. Deputy Medical Superintendent of Parachinar Hospital Dr Mumtaz Hussain said the condition of three injured persons was critical.
District Police Officer (DPO) Tahir Iqbal said a police team has reached the area and initiated investigations.
Land disputes are troubling the peaceful environment of merged tribal districts and dozens of people have lost their lives in clashes over such disputes recently. Peaceful resolution of these disputes by bringing all parties to disputes to negotiating table is a huge challenge for the administration.
Currently, more land disputes are surfacing in Kurram, Mohmand, Bajaur and North and South Waziristan tribal districts.
Ahmed Khan Wazir, a social activist, said while talking to TNN that the main reason behind the unending land disputes in merged districts is unavailability of land record. He said the government must introduce a transparent system to end these disputes.
Irfan Mehsud, another social activist, said the recent clashes between rival tribes over land dispute exposed the weak grip of the government. He said many innocent people lost their lives in clashes between the rival tribes. He said the Pakistan Army and security forces have completed their duty of defeating terrorism, and now it's the responsibility of the civil administration to bring reforms and ensure durable peace.
Abrar Khan, a lawyer, said while talking to TNN that the KP government was supposed to bring land reforms after integration of erstwhile Fata, but it totally failed on this issue. He said land disputes used to be resolved in the area through Jirga system before the merger.
"Now land disputes are referred to courts which seek proof and evidence from parties to dispute," he said, adding that people can't bring proof and hence don't approach the courts.