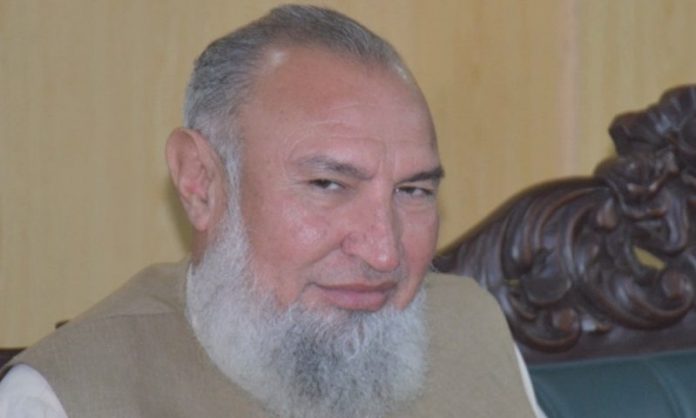 PESHAWAR: The Khyber Pakhtunkhwa Police has arrested eight suspects, including the son of Supreme Court Bar Association (SCBA) President Abdul Latif Afridi, in the murder case of Anti-Terrorism Court (ATC) Judge Aftab Afridi and his family members.
Swat ATC Judge Aftab Afridi, his wife Bibi Zainab, daughter-in-law Kiran and three-year-old grandson Muhammad Sanan were shot dead on Sunday evening on the M-1 Motorway near Ambar Interchange, Swabi. His driver and guard were also seriously injured in the ambush.
Three suspects were arrested on Monday, while five suspects were arrested earlier in a joint operation in several areas of Peshawar and Khyber tribal district. The detainees include the son of SCBA president and a lawyer, adding that they were arrested during an operation in Jamrud.
The SCBA president is also nominated in the FIR registered on behalf of the deceased judge's son, Abdul Majid Afridi.
Meanwhile, Abdul Latif Afridi has condemned the brutal murder of the judge along with his family members and denied his or his son's involvement in the crime. The SCBA president assured the authorities of his full cooperation in the matter to all relevant agencies, reiterating that he or his son had nothing to do with this matter.
The SCBA extended its deepest condolence and sympathies to the family members of the innocent victims and demanded removal of the names of the SCBA president and his son who, it said, had been falsely implicated in the FIR over the killing of the ATC judge and his three family members.
Abdul Latif Afridi said that on Sunday when the incident happened he and his son were busy in their family affairs while in the evening they were present at their agricultural land for plantation.
Meanwhile, Inspector-General of Police (IGP) Dr Sanaullah Abbasi claimed that four of the eight suspects named in the murder of the judge and his family were present at the crime scene.
Sanaullah Abbasi said that some of the suspects were arrested by a team led by Deputy Inspector-General of Police (DIG) for Mardan Yaseen Farooq. They were helped by the Counter-Terrorism Department (CTD).
The police chief said the authorities were investigating the murder on a scientific basis.
Hits: 13