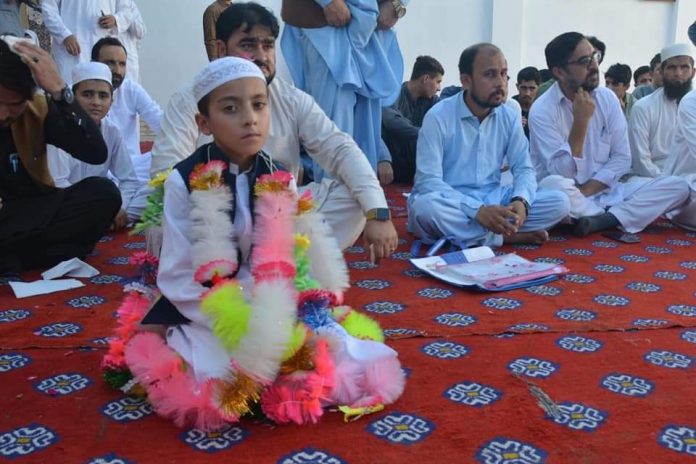 Shahzad Naveed
SWAT: Nine-year-old Qari Muhammad Hammad from Swat bagged first position in the national Azaan competition organised by Afaq Pakistan, in which more than 2,000 students from across the country participated.
Qari Muhammad Hammad, a resident of Mingora, Swat, recited the Azaan in the best voice and took the first position. A ceremony in this connection was held in the honour of Qari Muhammad Hammad in Swat. He was greeted with flowers.
On this occasion, Hammad also recited the Holy Quran and recited the Azaan which was appreciated by the participants. At the end of the ceremony, Hammad was also awarded shields, certificates, and cash prizes.
Afaq Pakistan Zonal Head Mohammad Shoaib Khan said that various competitions are organised by Afaq Leaders Club to bring out the hidden potential in children. Hammad also participated in the online Azaan competition in which he won first position.
"Afaq organises activities for people from five to 24 years of age, in which everyone can participate. Online registration is required for participation," he said.
Mohammad Aziz, father of Mohammad Hammad, said on the occasion that the success of his child is the success of the whole of Swat. "I am proud of my son and I want other children to participate in this competition," he said.
Fazal Hameed Khan, Chairman of Ehsaas Rehab Centre, said that the way the Hammad brought fame for the area, a ceremony was arranged in his honour.
"Hammad is a promising student, his victory is a source of pride for our school and a source of encouragement for other children," said Mohsin Ali, principal of the Hammad's school.
Not only Hammad's family is happy with the first position in the Azaan competition, but also the people of Swat are expressing their happiness and considering the success of Hammad as a great achievement for the area. They say such competitions must be arranged on a regular basis to unearth skills and talent of children. They say the Azaan competition is a good trend which must continue and children must take part in such activities.