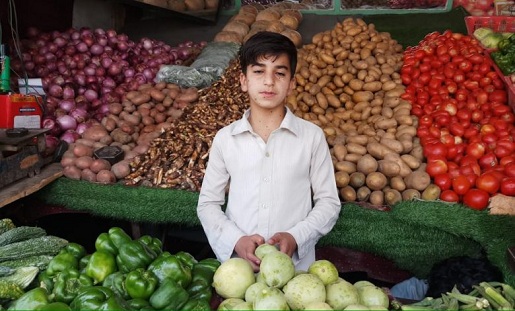 Mehrab Afridi
PESHAWAR: A boy in Landikotal Bazaar is getting first position in his school for the last five years, but still he has to sell vegetables after school time to support his poor parents.
Despite excellent progress in his education, Rizwan, who is now a student of seventh grade, was removed from a private school due to poverty and since then he is getting education in a government school. This was also done to enable him to work at a vegetable shop in the afternoon to earn livelihood for his family.
Rizwan's father, Akbar Jan is a poor labourer who works on daily basis to earn livelihood. But the family finds itself in trouble when his father doesn't find work. Akbar Jan aspires that his son gets higher education and make name for his family and serve the country.
Rizwan is so talented that he got second position in the talent hunt programme last year. Rizwan is a highly confident and brilliant student and he aspires to become a computer software engineer in future. He is good in written and spoken English. He has received several awards from civil and military officials for brilliant performance in curricular and co-curricular activities.
Akbar Jan, who works at a poultry shop, said his son is very talented and he has all the qualities to excel in the field of education. He said he doesn't want his son to work in a shop at such a young age, but he is compelled to send him for work due to poverty. He said he would immediately stop his son from going to shop and ask him to fully focus on his studies once he gets some sort of financial assistance or stability to finance his son's education.
Jan Akbar has appealed to the government to extend financial assistance to him so that he could fulfil his dream of educating his son to the highest level.
The shop owner, Qari Janzada said Rizwan works for four to five hours at his shop on daily basis. He says Rizwan could earn only Rs50 daily, which are not enough for his expenses.
Muhammad Sharif, a teacher, told TNN that Rizwan is the most brilliant student of the school and he is highly obedient as well.
Hits: 0