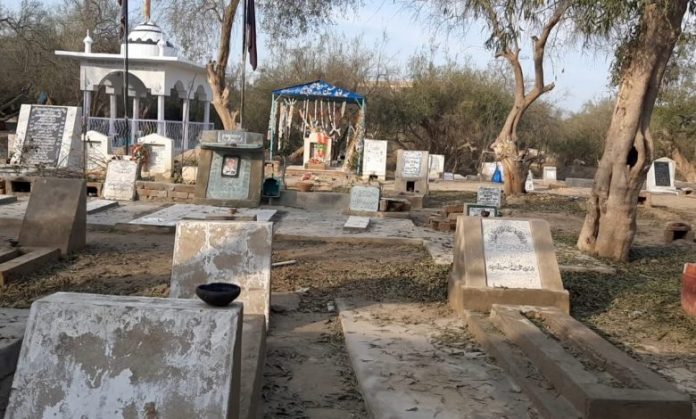 Kainat Ali
DERA ISMAIL KHAN: There is a unique graveyard in Dera Ismail Khan district of Khyber Pakhtunkhwa where people from all religions are allowed to bury the deceased persons.
Trees of religious significance for Hindus and Christians have also been planted in Syed Munawar Shah graveyard. DI Khan was among the worst impacted districts of KP from the wave of terror, but its people showed matchless bravery and fought it out. People from different religions like Christianity, Hinduism and Judaism live in DI Khan apart from Muslim majority. Mostly these people live in harmony and they have great understanding and don't interfere in religious domains of others. The great example of exemplary religious harmony is that people from all religions are buried in the same graveyard.
Sandeep Kumar, a citizen from Hindu community in DI Khan, said while talking to TNN that the Hindu community started burying the dead in graveyard during 1960s as there was no cremation place in DI Khan and poor Hindus could not afford to take their dead to Sindh for last rituals. He said the Hindu community raised the issue with local elders who allowed burying the dead in the graveyard.
Local Pundit Ashok Kumar said the harmony between people from different religions in DI Khan is a great example for the rest of the world. He said there is no doubt that DI Khan was badly affected due to terror, but people of the area showed resilience and proved that there is nothing greater than love and respect for others.
Ashok Kumar said the government should establish a Shamshan Ghat for Hindus in DI Khan so that they could cremate their dead according to their religious beliefs. Currently, he said, the Hindus had to take their dead to Kohat where a Shamshan Ghat is available.
Sajjad Masih, a member from Christian community, told TNN that DI Khan is an ideal place as far as religious harmony is concerned. He said people from all religions also participate in the events of other religions.
Religious scholar Mufti Shoaib said the people of DI Khan believe in peace and harmony. He said Syed Munawar Shah graveyard is a great example of religious harmony.
Hits: 1