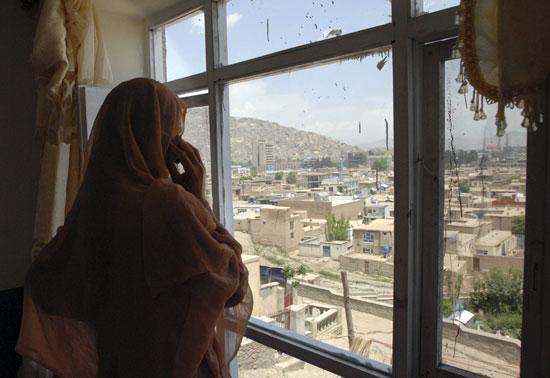 Rifaqat Razarwal
PESHAWAR: An Afghan refugee woman in Khyber Pakhtunkhwa who was married to a merchant was living normally until a cousin visited her in the absence of her spouse at night time.
"Upon waking up I found myself in Jalalabad (Afghanistan) along with one of my kids and the very next day I was forcibly married to a stranger," says the 27-year-old woman (who wants to keep her identity secret) who belongs to Mazar-i-Shareef city of Afghanistan and lived for around 14 years in different areas of KP.
Talking about her ex-husband, father and her family, the woman shared that her father tied her knot to her cousin at the age of 11, from whom she had four children. She said her husband used to run a cloth business in Afghanistan's Balkh province and bought merchandise from Kabul. During this time he used to spend two to three days over there. She says that once her husband was on one such journey when her cousin visited her and stayed at her home for the night.
"We all went to sleep and upon waking up the next morning I found myself in Jalalabad, along with my younger child, in a stranger's room. After that they forcibly made me marry a stranger," she said.
About two years passed during which she gave birth to a son. "My husband divorced me and took away both sons. He again sold me for Rs400,000 to another Afghan friend from Peshawar. Again I gave birth to another son, but he divorced me eventually for no apparent reason," she said.
According to this Afghan woman, her Peshawar-based Afghan refugee husband sold her to a broker for the third time for just Rs200,000.
"That broker told me that you've to start the business tomorrow. I asked which business? He answered, he has hired a house on rent in Hayatabad, where I along with other women will make men happy and earn money in return," she revealed.
She said the broker asked her to keep half of the money and spend the other half amount for rental purposes. The woman shared that one day a man came to her as a 'customer' and started showing sympathy to her. She said she told the man to go away. She said that about a week later, the same man came to the broker and they sealed a deal. The broker sold her again for Rs20,000 and let the man take her to his house.
Several people with different mindsets used to visit brothels and would take her with them for several nights. "At night these people would use different kinds of drugs, including alcohol, hashish and ice. As a result, I also became a drug addict," she said.
The while lighting a cigarette continued her story, and said she continued her heinous business but now the time was changed. "Earlier I would do my business in some guest house but now people from the streets had started inviting me to their place," she said.
The woman shared that she would often visit Samiullah, a shopkeeper in Saddar Bazaar, for shopping. She happened to share her story with him during their conversation. The shopkeeper expressed grief and was sorry to hear her torment and told her that he will keep her in his house as a sister if she agrees. The shopkeeper said there was only one person in his house and that was his mother. He asked to serve his mother and live a respectful and dignified life without any worries.
She said she asked him to give me some time to reflect on it. Her cigarette got finished while saying this and she started crying bitterly. She said if she had accepted his offer, she would have been living a dignified life today.
The woman said that at night she made a firm decision of leaving that house and the next day, early in the morning, she went to that shopkeeper straight away. "He took me to his home and told his mother that: she has no one in this world. I've vowed to take care of her as a brother and from now on she is going to live with us."
The woman said Samiullah used to treat her like a brother. She said she had made a firm decision of not doing that filthy job again.
"At that time I was about 23 years old. Since I was so young and had gotten prone to sexual addiction. Sometimes my mind would get fogged up with lustful desires but I did not want to return to that dark life again," she said, adding that one day when Samiullah's mother had gone to attend some wedding and as usually he was at his shop, she got so overwhelmed with sexual desire that she left the house as soon as she got the chance.
"Walking for about a kilometer I looked with longing eyes at people and wondered who would take me to their home but nobody noticed me. Then I stood on the side of the road and suddenly a taxicab stopped by me. I sat in it, the driver asked me where I wanted to go, I replied: 'as you wish'. He was overjoyed as soon as he heard my answer, and immediately took out his mobile phone and called a friend to set up some room, 'I am bringing some really good stuff', he told his friend."
After reaching the spot, she woman said she spent for two hours with the cab driver and his friend. "On our way back he gave me Rs2,000 and dropped me at home," she said.
"Once again I had fallen addicted to this filth and as a result, I left Samiullah's place without informing him and his mother and joined a broker's business once again. I still live with that lady," she said.
The woman said she has visited all the cities of Pakistan in her business, but now she wants to go back to Afghanistan but she is afraid her family would kill her for honour.
Hits: 1