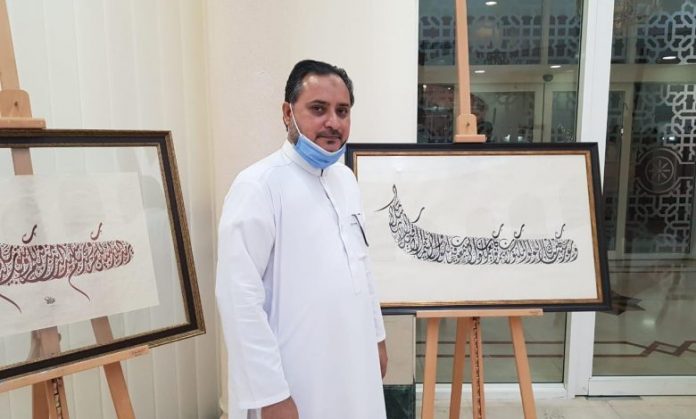 Behlol Bacha
BUNER: Abdul Haq from Bhai Killi in Buner could not continue education beyond matriculation due to financial problems. He went to Dubai in 1998 and worked there with different companies as an electrician and labourer. He then got a driving licence in 2001 and bought a taxi cab with his collected money and loans from friends.
Things were going well for five years, but then the government banned private taxis and Abdul Haq had to sell it on very low price in 2006. He went into financial crisis and his family also suffered a lot. However, he did not lose courage, and in 2006 he joined the culture department of Sharjah. He used to watch the students and teachers of calligraphy department with deep interest and he developed a desire to learn this art. It was a blessing for him when he was noticed by eminent calligraphy expert Ustad Muhammad Farooq and he started teaching him. He rise in the calligraphy art was so quick that even other experts in this art were surprised.
In 2014, when International Calligraphy Exhibition was held in Sharjah, Abdul Haq's calligraphy piece was selected for the international exhibition. Ruler of Sharjah Sheikh Sultan bought that calligraphy piece for 2,500 dirhams. His success story started from that exhibition and he became a popular calligraphy expert. He is now serving in calligraphy department of the same organisation for the last 15 years where he used to be a driver.
Besides Sharjah, Abdul Haq's art pieces were displayed in international exhibition at Al-Hamra Art Gallery Lahore, Pakistan National College of Arts and Bacha Khan University.
The life of Abdul Haq witnessed several ups and downs, but he never lost courage and finally found his persona. Now he is known has an expert in calligraphy and he has brought up this art like his children. He believes that purity of writing is in fact purity of conscience.
About the future of calligraphy, Abdul Haq said it is our national inheritance and it is responsibility of experts to keep this art alive and further promote it. He called upon the government to provide patronage to this art.