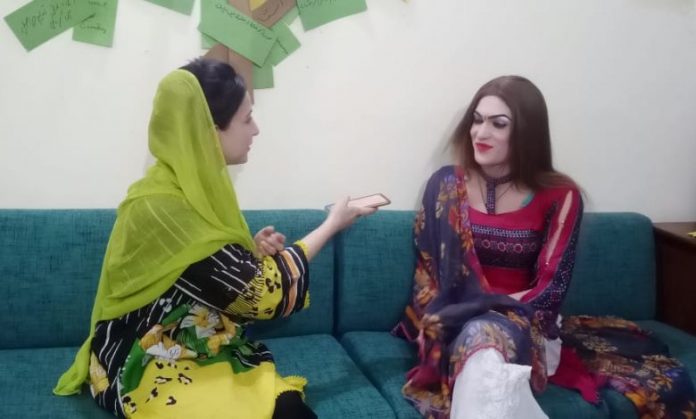 Salma Jahangir
PESHAWAR: Transgender person Namkeen says she was beaten up by his family members and her uncle was particularly harsh as he was insisting that Namkeen must live like a man, but most of her traits were that of girls.
Namkeen, who hails from Peshawar and was bestowed with Child Rights Defender Award by Child Protection Commission Khyber Pakhtunkhwa, says unlike other transgender persons, she lives with her family. She is constantly in touch with transgender community and works for their rights.
Namkeen says her story is not much different from other transgender persons. She says right from childhood she liked to play with dolls and her other habits were also that of girls.
Namkeen got regular education up to Bachelors level and then completed Masters in Political Science from the University of Peshawar as a private candidate. The transgender person says she faced a lot of difficulties at school and college level and she also faced harassment several times. She said she was used to hearing bad mouthing, taunts and bad behaviour. She said she never lost courage and ultimately completed her education. She now works for women's and children's rights.
After completing education, unlike majority of transgender persons, Namkeen did not join the field of music and dancing, and joined a non-governmental organisation (NGO) to create a positive image of transgender persons. She says she is working in the NGO and raising voice for the rights of transgender persons and trying to create awareness among them about their rights. She says she becomes perturbed to know about violence against transgender community, and she raises her voice for this weaker segment with the help of different social institutions.
Namkeen says she faced a very tough time within her family and relatives used to taunt her parents that their 'son' is a eunuch. She said her family ignored the taunts and admitted the fact that she is a transgender person. She said her parents want her to show the right path to new entrants in transgender community and create awareness among them about importance of education. In this way, transgender persons will avoid going into wrong hands and become useful citizens of the country.
Hits: 1