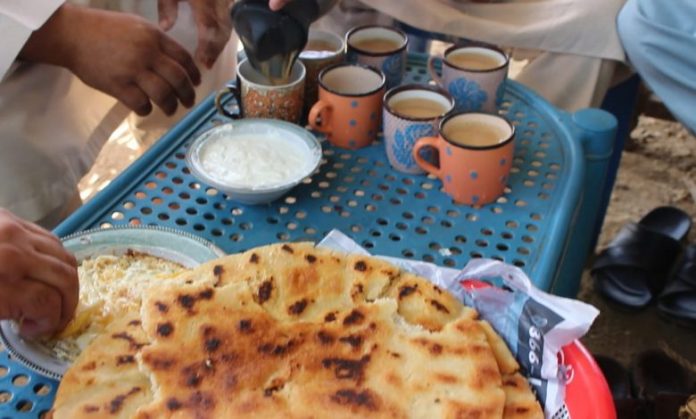 Junaid Ibrahim
SWAT: Parona village in Kokarai village in the outskirts of Mingaora, famous for its cold weather and green mountains.
The people of the area are dependent mostly on agriculture, and some have gone abroad for work. This area also attracts tourists, particularly from Swat and Buner.
In early 2020, Pakistan was badly hit by the novel coronavirus pandemic, where due to lockdown tourism suffered a lot. Amir Sayyed from Parona village runs a run-from-home restaurant in his village. Lockdown of last year proved beneficial for him when local tourists started visiting inside areas of the valley. In an interview with TNN, Amir Sayyed he used to be a vendor selling boiled eggs and fried chips in a cart outside his home. He said he got an idea of opening a home-type hotel where all the food stuffs would be domestic and simple and he did so, and after a short time his business grew with a good pace.
"I fully devoted myself to my restaurant, where my wife and other females cooked local food and I ran the restaurant and served the tourists with the help of my sons," he said.
"We generally make tea with fresh milk, fry eggs, and maze bread, both buttered and simple. And on special orders, we make Swati rice with indigenous and domestic (chicken, ghee, paratha, yogurt etc.) which takes time but tourists enjoy here in fields, and then eat," he said.
Amir Sayyed said summer season is good for tourism. He said now a days fast food, and other cultures of food are getting famous and they have a high prices, but his hotel offers food on affordable prices, which is also getting famous in Swat and out districts, including Peshawar, Mardan, and even Quetta.
A local tourist of Saidu Sharif told TNN he comes here on every weekend along with his friends and enjoys and loves the taste of indigenous food. "This is the most incredible way of serving here as we see the restaurant staff like they are from our home, they are caring and loving people," he said.
A local journalist Ali Hazrat Bacha said this isn't a hotel, but like a Pashtun hujra because they serve like we are guests, not customers, the rates are quite good and affordable, and they have clean service of cooking and serving.
The restaurant owner lives with family members in Parona village. He said local culture and foods should be promoted in a modern way.