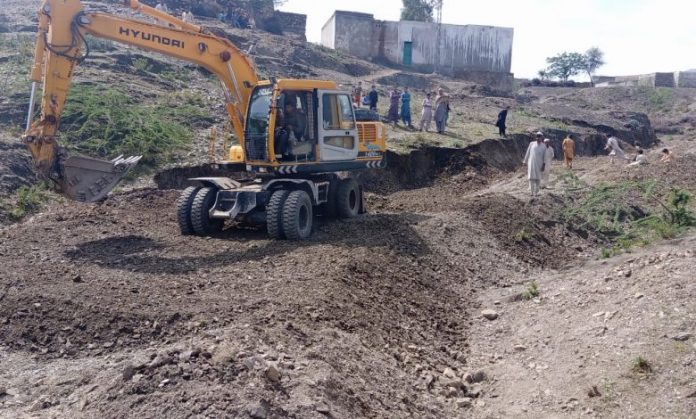 Zahid Mallagori
LANDIKOTAL: There is a village in Khyber tribal district where people from outside even hesitate to come for attending marriages as the area lacks any road infrastructure even during this modern era.
This is the story about Painda Lalma village in Mallagori where development did not happen even after merger of erstwhile Fata with Khyber Pakhtunkhwa.
Khawaja Ahmed Mallagori, whose family lives in the village since several generations, says more than 200 families live in the village, but there is not even a single concrete road due to which they face difficulties. He said the road is about one kilometer away from the residential area which has a difficult terrain. He said people bring daily use items and even construction material on their shoulders to the village after unloading it on the road which is one kilometer away.
The situation becomes even more difficult and embarrassing when a patient has to be shifted to hospital. The patient is taken to the road on shoulders by other people to reach the vehicle on road.
Khawaja Ahmed said the local people held a Jirga and demanded construction of a road from the local elected representatives and district administration, but nothing happened. After disappointment from government side, the local youth started collecting donations and started the road construction on their own.
Wilayat Khan, a local resident, said it is a matter of shame for elected representatives and administration that the local people, who hardly earn two-time meal by working the whole day, had to donate for the road. He said the villagers are living a difficult life due to lack of road and other basic facilities, but now they are committed to resolve these problems on their own for their next generation.
Wilayat Khan said heavy machinery is being used to make a usable route leading to the road. He said the villagers are now planning to start another donation campaign for resolving the issue of clean drinking water supply.
Federal Minister Noorul Haq Qadri's personal secretary Hameedullah Afridi, when contacted, said they have visited the area after receiving request from the locals. He said work on road in the area would be launched after availability of funds, but it would take time.
Hits: 1