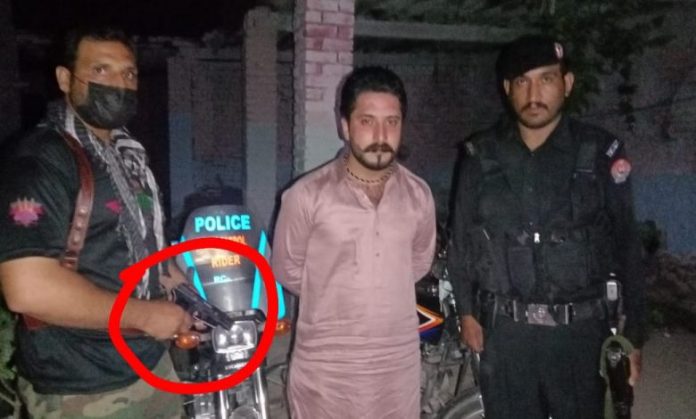 PESHAWAR: Peshawar Police has again arrested Aamir Tehkali, the character who got a lot of publicity after making a video hurling abuses at police officers, the video of which had gone viral.
However, this time he has been arrested for allegedly keeping illegal arms. Police said the accused was in Tajabad area and carrying a gun when he was spotted by the City Patrolling Force personnel and was shifted to Pishtakhara Police Station after arrest. A case has been registered against the accused and further investigation is underway.
Police said they arrested an armed man in Tajabad during routing patrolling and he was later on identified as Aamir Tehkali.
In June last year, a video of torture of Aamir Tehkali, a resident of Tehkal area of Peshawar, by police went viral on the social media after which the Peshawar Police came under sharp criticism over its methods to deal with trivial cases.
The first video of Aamir Tehkali appeared on social media earlier in which he used abusive language against different police officers. After that another video of Aamir Tehkali appeared in which he was shown in a police station apologising for his inappropriate language and promising not to repeat this act. However, after that video, another video of Tehkali appeared in which it was shown that Tehkali was stripped and tortured by policemen.
This video went viral on the social media within no time which drew sharp criticism from people and also triggered protests demanding justice for the torture and humiliation victim.
After massive protests, a judicial commission was constituted for probing the incident. After completing probe in the incident, four policemen were terminated from their jobs. The dismissed policemen included ex-SHO Tehkal Sub Inspector Imranuddin, Constable Tauseef, Constable Naeem and ex-SHO Agha Mir Jani Shah (Yakkatoot) Sub-Inspector Shaharyar Ahmad.
KP Inspector General Police (IGP) Sanaullah Abbasi said while commenting on sacking of involved policemen that there is no place in Police Department for those who bring bad name for the department. He said there is a strong system of accountability within the Police Department. He said law will come into action if anyone takes law into own hands.
Hits: 1