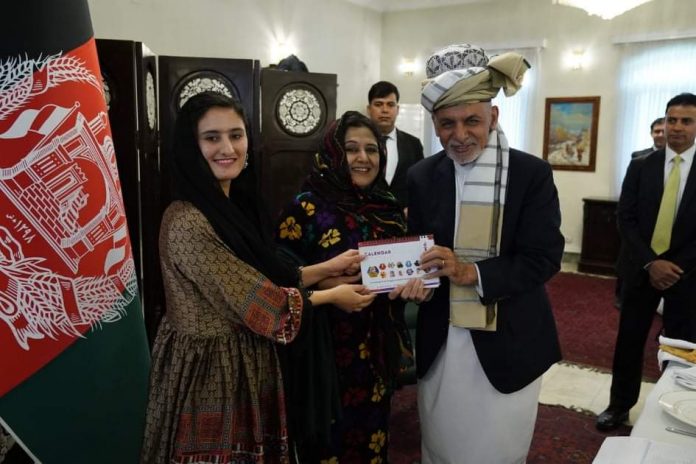 Jemima Afridi
PESHAWAR: When it comes to Afghanistan, I always feel excited and I had this wish to visit it since my childhood as I learnt from different sources about its historical geography, once being home to the oldest civilisation (Bamiyan remains of Buddha), a beautiful and diversifying landscape, the hospitality of the native people and the most important of all is being abode to our for-fathers, who either in one or another way, are associated to them by their cultural norms and social ethos. I myself being a Pashtun, feel a sense of ownership whenever I hear the name Afghanistan because still a fraction of my own tribe Afridi still resides on the other side of the Durand Line, so it's quite fair to say that for me, I felt like I am going my own home when I came to know about the due Peace Conference to be held in Kabul (the capital of Afghanistan).
The conference being postponed repeatedly due to the ongoing pandemic was finally scheduled at the 6th March 2021 and I was invited from the Ministry of Tribal Affairs, in order to represent 'WAAK' movement (a peaceful movement purely intended to empower women across the country especially in more marginalized areas) in the capacity of a sportsperson and peace agent, along with other WAAK members.
After all the formal arrangements and clearance from Afghan Consulate located in Peshawar, we were informed that we will go in a group where the other participants will also be accompanying us, although I knew most of them but sharing some quality moments while on our way during this whole journey was an amazing experience. All of them were so humble and they didn't give me this feeling like it was our first meet-up and especially  the joyous company of Mr. Amjad Shahzad –a renowned artist from Thana, KPK–  was worth enjoying. When we reached the Torkham (Pak-Afghan border), the situation there was quite worse due to the very sorry state of affairs and mismanagement which was very visible from the impressions of the people crossing the border.
Thousands of people cross the border on daily basis including businessmen, immigrants, and patients. Millions of dollars trade takes place across the border on daily basis but it's worth mentioning here that people mostly come from the very far-off localities in Afghanistan where there is a severe shortage of medical infrastructure and other associated services. They prefer to come to Peshawar being the nearest spot, seeking quality health services here.  I noticed that these people were not served the due attention and most of them were in a very critical situation. The children accompanying them were screaming due to the kind of treatment they were receiving at the hands of the administration and it led me to a disappointment. During our very short time which we spent over there I also came to know about the terminologies which these Afghanis use like they  use "Karachi" word for a wheelchair.
After a tiring journey on road, we finally entered into the geographical boundaries of Afghanistan and it was like entering a new world. Arriving our first stop, we were welcomed wholeheartedly by the officials and our arrival there was celebrated. We were treated like distinguished guests especially me, Fatima Faraz and Benazir Mandukhel being as the youngest participants in the delegation. I found all of them very much hospitable being one of their innate trait in their culture.
Upon reaching Jalalabad, we were received by Mr. Zia-ul-Haq Amarkhel (Special Presidential Adviser in Public and Political Affairs) at the governor's house. We were briefed there by the responsible person and a guide let us visit the whole governor house, although it was under renovation but still it was an attractive masterpiece of architectural beauty. We were told that we will be taken to Kabul through a helicopter  from Jalalabad. I was expecting that it would be a very pleasant journey onward while seeing the area from the up but the noise of the helicopter was so irritating. I was lucky among the rest because  I put cotton pieces in my ears and did not suffer much.
Upon arriving Kabul we rested there for an hour after which we were taken to the Kabul Inter-Continental Hotel  for the opening ceremony of the conference. People belonging to different professions were invited to the conference and the speakers highlighted the importance of the conference as well as shared their views regarding their potentials  in which they could do their best both in the individual capacity as well as collectively for obtaining a long lasting peace between Pakistan and Afghanistan.
The next day we visited the former Afghanistan President Mr. Hamid Karzai's Palace, the incumbent Afghanistan's Chief Executive Mr. Abdullah Abdullah place where were served in a very hospitable manner and shared quality moments there. In my this whole visit, the best part was meeting the incumbent Afghanistan President Mr. Ashraf Ghani at his official residency, the Arg. I am really running short of words to describe his personality in words. The way he was respecting everyone and standing up–out of respect– while bowing in front of the participant at the time of introducing our delegations' participants individually were some events that I will never forget. I noticed that his vision both for the people of Afghanistan and Pakistan was just admirable.
We were constantly visiting different government sites for three days and upon sensing our boredom, the host-administration took us to the Kabul bazaar, Qargha, and Paghman Palace the very next day. Their arrangements and set-ups for our delegation was just amazing and beautiful.  We also visited the head office of  Shamshad TV . All the places were too good  and its aesthetic beauty was worth remembering but the way they served us in these days was more attractive for me and that's why I felt even more affection for these people.
The next day, we were informed that our dinner to be served at (Member of Afghan's Parliament representing Kuchis) Ms.Mariam Sulaimankhail's house. After our dinner there she arranged a cultural and musical night for us at her own place and we found her a very friendly and cheerful person.
We spent six days in Afghanistan and we enjoyed each and every moment there. Whoever I  met there so I found them nice and respect-giving people, whether it was Mr. Askar Shoaib who always guided us during our whole stay regarding different places or Mr. Jamil Khan who even couldn't speak proper Pashto, but still we had had a lot of fun with him as we talked to him through our facial expressions and different gestures. Just for fun here but we were really irritated by Mr. Samad and Mr. Khayal because they always woke us up early in the morning but while leaving we always found them missing.
When I return to Pakistan, I was expecting the same pampering and celebrity-like treatment from my family and friends but to my utter disappointment, I was nudged by my sister that you are no more in Afghanistan, so it's better to come out from those delusions and to get back to the normal life.
Hits: 2