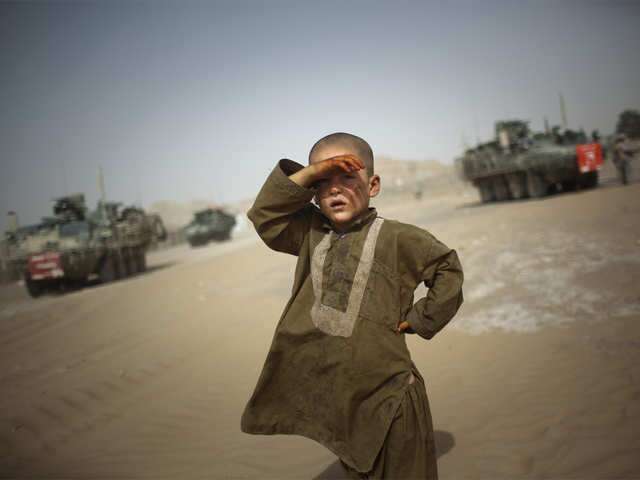 PESHAWAR: The Afghan Taliban have claimed capturing the strategic border crossing of Spin Boldak with Pakistan, a claim vehemently rejected by the Afghan authorities.
The Afghan Taliban spokesman claimed that the insurgents have taken over the Spin Boldak border crossing with Pakistan while Afghan authorities said that armed forces had 'repelled' Taliban attack on Spin Boldak although it was earlier confirmed that the insurgents were closing in on the border crossing.
Taliban spokesman Zabihullah Mujahid claimed that the insurgents have captured an important border town called Wesh in Kandahar, and with this, the important road between Spin Boldak and Chaman and Kandahar customs came under their control.
The security forces in Pakistan also confirmed the Taliban claims.
"The Taliban have taken control of the Afghan side of the Chaman-Spin Boldak border crossing", a Pakistani security source was quoted as saying by an international media outlet. It was also reported that the Taliban have removed the Afghan flag and hoisted their own flag at the border.
In Chaman, the border town in Pakistan, the deputy commissioner said that the border crossing has been completely sealed for traveling and trade after the insurgents took control of the Afghan side of the friendship gate.
According to latest reports, the Taliban had barred citizens and traders from using the border crossing on Wednesday, while authorities in Pakistan also suspended all activities at the Chaman crossing point.
Sources said the Pak-Afghan border at Chaman was put on high alert and additional security was deployed at the gate.
The Taliban spokesman assured traders and residents there that their "security is guaranteed". But Afghan officials insisted they still had control.
The militants have launched a widespread offensive across the countryside since early May when US-led foreign forces began their final withdrawal of troops. Since then, the Taliban have captured at least three other crossings along the borders with Iran, Tajikistan, and Turkmenistan.
On the other hand, the Afghan interior ministry insisted that the attack of Taliban on the border crossing was repelled and government forces took back the control.
The social media was also abuzz with pictures of Taliban fighters looking relaxed in what appeared to be the border town.
Hits: 1