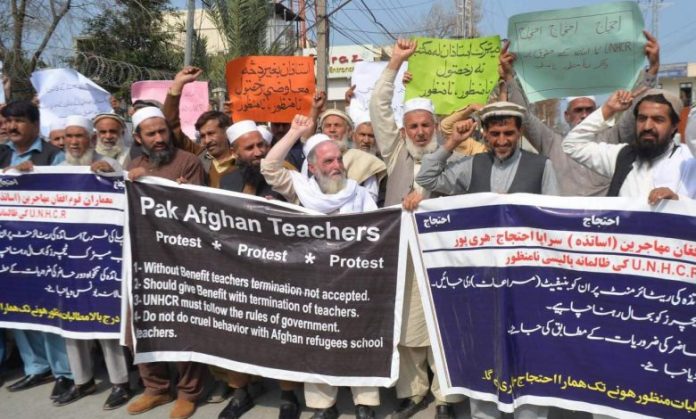 PESHAWAR: The teachers of 104 Afghan welfare schools being run under the UN refugee agency (UNHCR) have again staged a protest in favour of their demands in Peshawar.
Participants of the protest were carrying banners and placards inscribed with their complaints and demands. They said if the teachers are to be terminated, then due rewards must be given to them on the pattern of government policy. They said they won't accept their termination without any benefits and incentives. They said the teachers of welfare schools are being subjected to discriminatory attitude, while no one is taking notice of the matter.
After protest outside Peshawar Press Club, Afghan Teachers Association representatives Zameer Gul and Hafeezullah said while addressing a press conference that the teachers have not received salaries for the last two months due to which they are facing grave financial issues and they are unable to fulfil basic requirements of their families. They said that during the previous protest, the teachers had given a deadline of February 25 to the UNHCR administration for restoration of jobs and payment of salaries, but that deadline was missed.
The protesting teachers said they have decided to temporarily postpone their protest on the assurance of chief commissioner UNHCR Islamabad who has pledged to resolve the issue through talks within few days. However, they said the schools will be kept closed until the issue is resolved.
The protesting teachers warned that they would stage a sit-in outside the main office of the UNHCR if their demands were not met by March 01. They said their next protest would continue till resolution of the issue and they won't give a new deadline next time.
The protesters said the authorities must show some sympathy with the teachers who have been left helpless. They said it is impossible for them to make ends meet without salaries. They said it is a common practice anywhere that if someone is terminated from job than he/she is given incentives and rewards. They said with incentives they may get some space and time for finding some other source of livelihood, but sudden termination and then stoppage of salaries is unacceptable.
Hits: 0