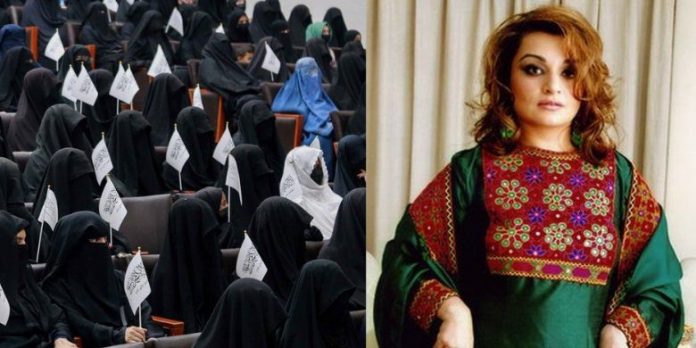 PESHAWAR: Some Afghan women activists have launched "Don't touch my clothes" campaign on social media to protest against the new Taliban government's women's related restrictions.
Pictures of a lecture organized at a university in Kabul are circulating on social media, particularly in Afghanistan, Pakistan and India, where the women are sitting in clothes that covered the entire face and even their fingers. It generated a debate on the social media that whether this kind of a dress, where even the eyes of women are not visible, is part of Afghan culture? Some commentators on social media are terming these black burqas a gift of 'Arab' culture. Some women commented that this is Arab fashion and it has nothing to do with Afghan culture, as in Afghanistan, women wear burqas having white or blue caps or white chaddar (shawl) with headscarf.
In a recent announcement, the Taliban made it clear that those who wish to study can do so without any hindrance, but there would be no co-education. They also made headscarf mandatory, but did not elaborate the details of the dress that must be worn.
Women activists believe that the conditions announced by the Taliban constitute an attempt to obliterate identity in the country.
Activists say the new campaign on Twitter is a resumption of the movement that Kabul witnessed recently to resist the transformation that the Taliban seek to implement, specifically targeting women's gains in education and work. The campaign is spreading on social media with colourful pictures of Afghan women, wearing traditional Afghan dresses. The campaign was launched by a former history professor at the American University in Afghanistan Dr Bahar Jalali, and now hundreds of women are posting their photos as well as comments.
However, the Taliban say they have no objection whatsoever over the women's education, or their jobs, but they must observe pardah and other Islamic norms while doing so. The Taliban education minister has said female students would be taught by women teachers wherever possible and classrooms would remain separated, in accordance with the rules of Islamic Shariah law.
There are some opposing voices, but still there are many people in Afghanistan who have no issues with the announcements of the Taliban government.
Hits: 1