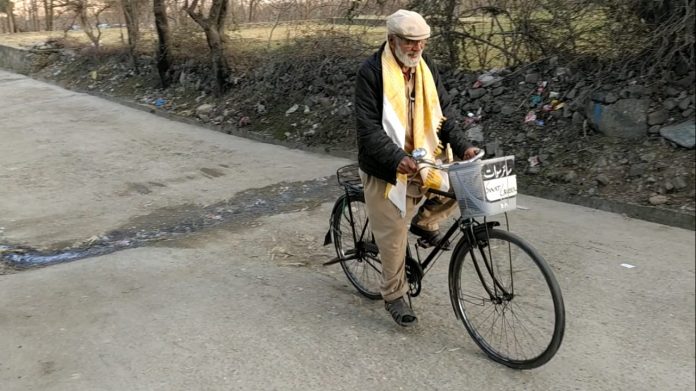 Junaid Ibrahim
SWAT: At the age of 83, Abdul Qayyum Balala from Sirsanai area of Swat, wanted to make a point – age is just a number.
Abdul Qayyum was usually mocked by people when they saw him on his bicycle travelling a distance of 20 kilometres to Mingora city regularly. He then decided to set off on a journey of 1,800 kilometres from his native Swat district to Karachi on his bicycle to show what he is made of.
"With Rs25,000 in my pocket I set off on Karachi journey on my cycle. The journey till Kohat was very smooth where roads where quite good," he said while talking to TNN.
"Cycling is my life," Abdul Qayyum said, mentioning that he bought his first bicycle in 1955 when he was a student. The school was situated far away and there were no transport facilities. Since then, bicycle is the preferred option for him for travelling. He believes that cycling is healthy option, while travelling in vehicles brings weakness and causes health problems to him.
"Traveling to Karachi on bicycle was my dream, because I got Masters in Geography from Karachi University, and I have friends there. During the journey, I stopped at every single place which attracted me," he said.
"During the journey, a problem happened when a dog bit me, but I got first aid after some trouble and then resumed journey and eventually reached Karachi on 18th day," he said.
Abdul Qayyum is also a writer. He has written four books on different subjects in Urdu, Pashto and English. The Charming Swat, Da borsando da waro khwagi qeesi, and Abraham Lincoln biography are his famous his books.
"I also have a dream of traveling on bicycle from Swat to China border," Balala said while revealing his future adventure plans.
He said he has travelled to Peshawar, Buner and Shangla on bicycle several times. In his message to the people, he said cycle is the best option for transportation with low budget and it also helps keep riders physically strong and fit.
"On bicycle a rider has the journey which is all his own," he said.
Hits: 0