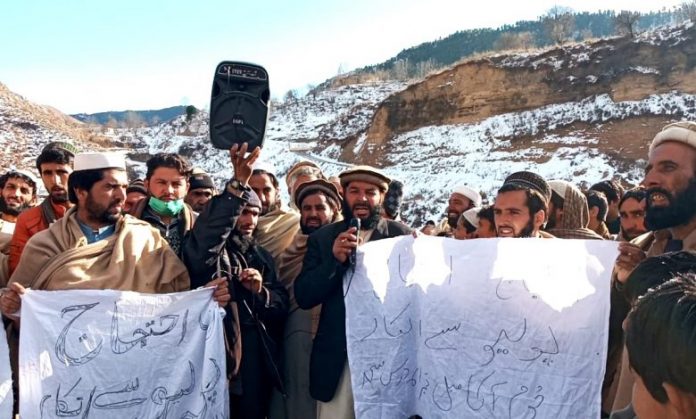 BARA: The people of Dars Jumat area of the remote Tirah valley in Khyber tribal district have announced boycott of the forthcoming polio vaccination campaign.
TNN correspondent reported that the people of Dars Jumat from Akkhel tribe held a protest demonstration on Saturday to pursue their demands of survey of damaged houses during militancy and military operation, provision of mobile and internet facility and provision of other basic facilities. A large number of people participated in the protest and chanted slogans against the government.
The protesters were also carrying banners and placards on which slogans regarding boycott of polio vaccination campaign were written.
The protesters said their area is deprived of basic facilities of education, healthcare, mobile and internet service, clean drinking water, roads and electricity even during this modern era. They said they offered many sacrifices for peace in the region and houses of many people were damaged and they are compelled to live under open sky in extreme cold weather. They said the survey of damage assessment has not been started in the area and the elected representatives are not serious in resolving this issue.
The protesters said they would continue to boycott polio vaccination campaigns till their demands are accepted.
Development projects on merit
Member National Assembly from Khyber tribal district Iqbal Afridi says development projects will be carried out in Tirah on merit.
This he said while addressing an open court on Saturday which was attended by officials from Public Health, Education, Irrigation, Construction and Works, Health and Wapda. The officials presented progress report about their respective departments.
During the open court, the local people lodged a number of complaints about the performance of different government departments. The people said development projects exist on paper only. They demanded that the officers deployed in tribal districts on different positions, who have failed to deliver during the last two years, must be changed.
The officials of government departments answered queries of the people and explained the reasons behind delay in completion of some schemes and progress on other projects.
Iqbal Afridi said the purpose of the open court was to resolve the problems of people. He said the process of open courts will continue in future.
Hits: 0