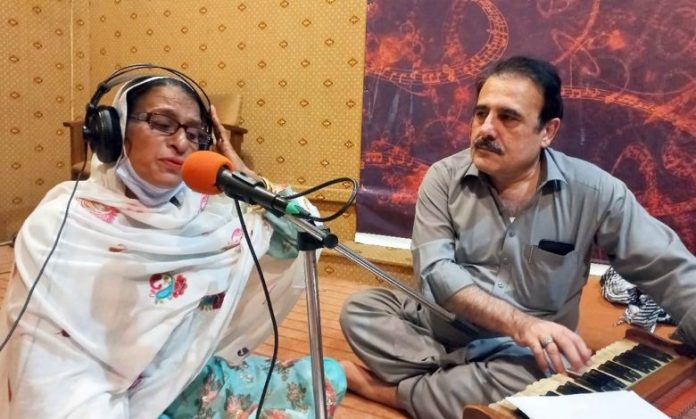 Salman Yousafzai
PESHAWAR: Bacha Khan Trust inaugurated 'Angazay Production' at Bacha Khan Markaz in Peshawar on Tuesday.
A ceremony in this regard was organised at Bacha Khan Markaz which was attended by eminent artists from different parts of Khyber Pakhtunkhwa, Awami National Party (ANP) provincial president Aimal Wali Khan and other notables in large number.
In the inauguration ceremony, famous singers Ahmed Gul Ustaz, Anwar Khial, Fazal Wahab Dard, Asfandyar Momand, Wagma, Fayyaz Kheshgi, Shakir Zeb and other emerging artists enthralled the audience with lovely and attractive songs.
Aimal Wali Khan, who is also Chief Patron of Bacha Khan Trust, said on the occasion that Angazay Production will serve as a platform for Pashto singers to display their talent. He said it would promote local culture and music and world will come to know about our cultural values.
The ANP provincial president said while talking to TNN that Bacha Khan Trust is continuing to serve singers, musicians and artists. He said it was unfortunate that artists faced difficulties recently due to unavoidable circumstances, but his party is committed to make Peshawar a centre of art and culture again. He said the artists of KP suffered the most in the wave of militancy. He said the doors of Angazay Production and Bacha Khan Trust are open for all artists.
Aimal Wali Khan said Bacha Khan Trust also runs a free school and a health foundation. He said Bacha Khan Trust also conducts research. He said it was his desire to provide a platform for singers and artists. He said the production house will function under the supervision of famous singer Gulzar Alam, while the services of other artists will also be available.
The ANP leader said music is an important ingredient of Pashto culture. He said the culture of traditional Pashto music is still alive in hujras (male guest houses). He said it is his desire to promote Pashto music and culture throughout the world.
Eminent singer Wagma, who also attended the function, appreciated the efforts of Angazay Production for providing a platform particularly to young artists. She said quality production houses are direly needed in KP to promote our culture. She said establishment of Angazay Production is a massive step towards right direction.
Hits: 6