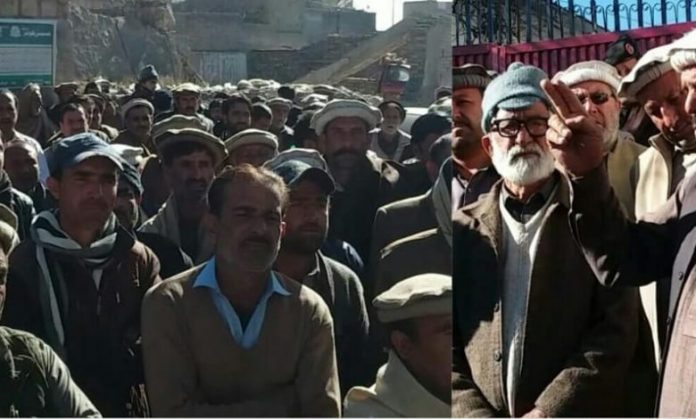 PARACHINAR: The people belonging to Hamzakhel and Mastokhel tribes of Kurram tribal district on Saturday held a protest demonstration outside the office of the district police officer over alleged occupation of combined land by some influential people and inaction of the administration to settle the dispute.
A large number of people gathered outside the DPO office and chanted slogans in favour of their demands. Addressing the protesters, tribal elders Malik Rehmat Ali, Malik Tahir Hussain Turi, Hamid Hussain and others said the division of the combined land was carried out according to the decision of an impartial commission in 1987 and all the stakeholders got their share. However, they said, some influential people while using their clout have again occupied the combined land, while the administration has chosen to look the other way.
The tribal elders also expressed reservations over establishment of a market by the government in Shaheedano Dand area. They said the market is being built on the lands of Hamzakhel and Mastokhel tribes, while these two tribes have not been taken into confidence. They demanded the government to immediately halt work on the project and take the land owners into confidence.
The Hamzakhel and Mastokhel elders said the issue of land dispute is getting complicated with each passing day due to lack of action by the administration. They said the issue may lead to some untoward consequences if it was ignored continuously. They said the responsibility of any unwanted situation will then rest with the administration.
The tribal elders demanded the local administration, judiciary and also 73 Brigade Commander Brigadier Najaf Abbas to take notice of the matter and play their role for resolving it.
In June and July last year, bloody clashes between two rival tribes on land dispute in Kurram claimed at least 14 lives, while 40 others were injured.
Both the rival tribes accused each other of ceasefire violation. The clashes between Para Chamkani and Balishkhel tribes started on June 27 in which both sides frequently and openly used heavy weapons against each other.
The clashes finally came to an end with the efforts of local elders, administration and public representatives.
Hits: 0