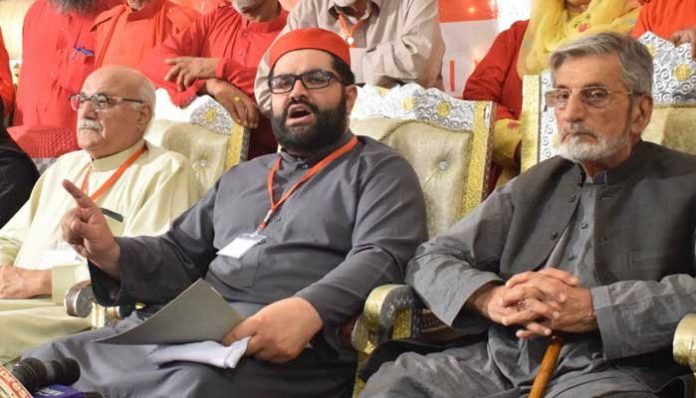 PESHAWAR: The Awami National Party (ANP) has demanded establishment of Khyber Pakhtunkhwa Higher Education Commission and lifting of ban on student unions.
The party has also demanded increase in funds for higher education and condemned the government intentions of paving the way for privatization of educational institutions.
Provincial President of the ANP Aimal Wali Khan said this at the provincial consultative meeting of the party where Haji Ghulam Ahmad Bilour and central general secretary Mian Iftikhar Hussain were also present.
Aimal Wali Khan shared that the provincial executive body of the party rejected the system of Alternate Dispute Resolution (ADR) in merged tribal districts and termed it against the needs of the local people. He said the new system was not in conformity with the needs of the justice system. He said the government should pay attention to establishment of judicial complexes in merged tribal districts to provide speedy and inexpensive justice to people.
The ANP president reminded that the federal government had promised that 3 percent share would be given to the merged areas in the National Finance Commission (NFC) Award, while a 10-year development plan for these areas would be implemented as per the amendment in the Constitution. He lamented that the federal government had neither announced the NFC Award nor reflected the promised sum for the merged districts in the annual budget.
The ANP chief expressed concern over what he feared regrouping of terrorists in parts of Khyber Pakhtunkhwa and Balochistan, and demanded action in this regard.
About the political issues, Aimal Wali Khan said his party has been approached to form a new political alliance. He said the ANP has not taken a decision about it.
The ANP and PPP had recently quit the opposition alliance, Pakistan Democratic Movement (PDM) after developing differences with other parties of the alliance over the issue of Senate elections and resignations from the Parliament. The ANP provincial president said his party will fully participate in the upcoming local government elections in KP.
Aimal said the ANP had already rejected the federal annual budget for 2021-22. He said the share of KP had been reduced as compared to the last fiscal year while the province had not been promised to pay its due shares and arrears in the head of net hydel profit.
Hits: 0