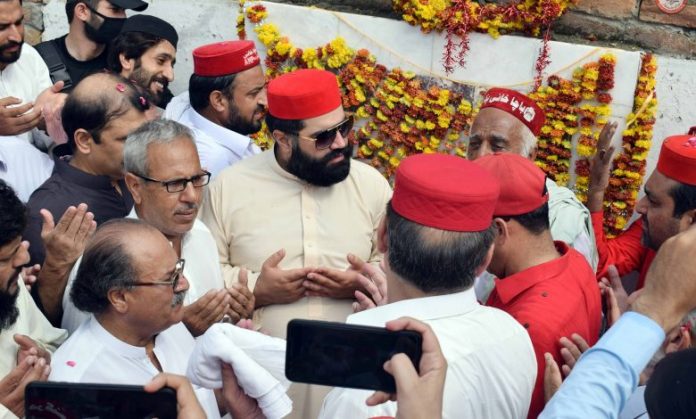 Rifaqatullah Razarwal
PESHAWAR: On Thursday, over 600 martyrs of Babara were remembered who were shot dead by police and security forces at Babara area of Charsadda on August 12, 1948.
A large number of Awami National Party (ANP) workers and leaders gathered at the Shuhada Monument which has been formed in the memory of the martyrs. The ANP leaders and activists laid floral wreaths on the monument and offered prayers.
The ANP claims that supporters of Pashtun leader Khan Abdul Ghaffar Khan had gathered to stage a peaceful protest in Babara against his and other leaders' arrest when bullets were sprayed on them by the security personnel allegedly on the orders of the government. The incident happened 73 years ago and very few people, who witnessed the incident, are alive today. The eyewitnesses had said bullets were sprayed on protesters and then local women came out of their houses with the Holy Quran and appealed to the forces to stop killing protesters.
The ANP provincial president Aimal Wali Khan said while talking to media that if the ANP came into power, it will reopen the cases of Babara martyrs and provide justice to victim families. He said the Babara incident was an example of profound love for the motherland, democratic rights and independence.
Aimal Wali Khan said when no one takes notice of target killing of ANP activists then the party would be left with no option but to say that the state is responsible. He said the ANP Balochistan executive body member Ubaidullah was killed after kidnapping and the same happened with Asad Achakzai.
To a question, the ANP leader said at present it is believed that the total number of Babara martyrs was 646, as some bodies were thrown into river, while some were burnt, adding that research on the issue is being conducted by Bacha Khan Research Centre. He admitted that non-opening of Babara case by the ANP's previous government was a mistake, but this mistake would not be repeated.
Karimullah, an 80-year-old elderly person in Babara, told TNN that Khudai Khidmatgars from Swabi, Mardan and Charsadda gathered in Babara for peaceful protest against arrest of Bacha Khan, Khan Sahib, Qazi Attaullah and others when the security forces first beat them black and blue and then opened straight fire on them. He pointed towards a ground and said it was littered with bodies and blood.
On Thursday, BabarraMassacre1948# was trending on Twitter on which subscribers expressed their views.
A subscriber, Gul Muhammad questioned why patriotic people were treated as traitors on first year of independence?
The state massacred hundreds of it's own citizens just after one year of it's independence and continue the brutality after 74 years demands loyalty from those suppressed citizens is foolishness.@AimalWali @babaksardar @MianIftikharHus #BabaraMassacre#babarramassacre1948 pic.twitter.com/Jc65MIihkO

— Ibrar Bannuzai (@ibrar_afghan) August 12, 2021
Another subscriber, Bulbul Khan reminded that more than 600 unarmed people were killed in the massacre.
In August 1948, the unelected chief minister of NWFP Abdul Qayyum Khan ordered indiscriminate shooting at a peaceful gathering of 25,000 followers of the Khudai Khidmatgar movement at Babarra Charsadda More than 600 unarmed people were killed #babarramassacre1948 pic.twitter.com/NFrFnCfilV

— FahiM Khan 🚩 (@Bulbulbacha) August 12, 2021