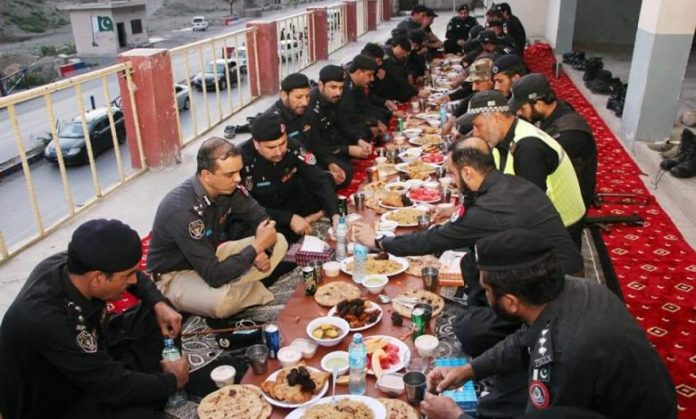 Rifaqatullah Razarwal
PESHAWAR: The government and law enforcement agencies are constantly advising the people to act upon standard operating procedures (SOPs) since the third wave of coronavirus is proving more dangerous than the first two waves.
Action is being taken against the general public on violating the SOPs, but the law enforcers are seen themselves violating the SOPs which has raised question marks about their seriousness towards handling the pandemic situation.
A photo of Capital City Police Officer (CCPO) Abbas Ahsan while doing Iftar with a large number of police personnel in Jamrud, Khyber tribal district, has gone viral on the social media. It can be seen that about three dozen policemen are seen doing Iftar, they are sitting too close to each other and none of them is wearing the facemask.
Public reaction
Saifullah Mohib Kakakhel, a lawyer associated with the Peshawar High Court (PHC), says politicians and law enforcers must also act upon the SOPs to serve as role models for general public.
He said action of law enforcers against SOPs violators is understandable, but it seems the CCPO is above the law. He says the CCPO must be booked for openly violating the SOPs. He says Article 25 of the Constitution provides for equal treatment of every citizen without any discrimination.
Some subscribers on the social media have also raised questions about contradictions in words and actions of the officials regarding SOPs implementation.
Senior journalist Syed Azmat Ali Shah shared the picture of the Iftar on Twitter, and said citizens are being arrested, while a minister is roaming freely after violating the SOPs and now the law enforcers are also seen violating the SOPs.
Police version
Several attempts were made to get the version of public relations officer of Peshawar Police, but despite seeing and reading messages, no response was made.
Steps by district administration
On Tuesday, Khyber Pakhtunkhwa Health Minister Taimur Saleem Jhagra was booked, while owner and manager of the restaurant were arrested over SOPs violation.
However, on Wednesday, the minister and hotel manager got bail by submitting personal surety bonds.
The minister said he would not shy away from the legal process after a case was registered against him for violating the SOPs. He said he was invited to a private Iftar dinner and he was told there would be a few close friends. He said he was not aware of the number of people who ended up being there.
During the last one week, 122,266 actions were taken on the violation of SOPS across KP.
Special Assistant to Chief Minister on Information Kamran Bangash said during a media briefing that 1,541 businesses were sealed, while 30,522 people were issued warnings during the last one week. He said FIRs were registered against 1,269 persons during the operations by the district administrations. A fine of Rs66,373 was also imposed on the violators.
Mr Bangash further said that 63 vehicles of public transport were also confiscated over non-observances of corona related SOPs.
Hits: 0