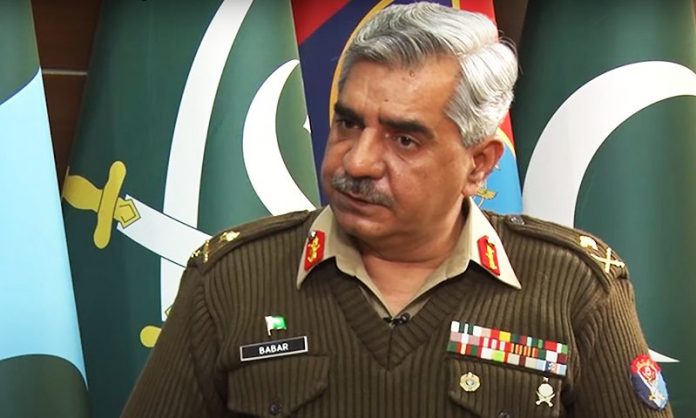 PESHAWAR: The Pakistan Army spokesman Wednesday said that the Army officials, who were responsible for the escape of former Tehreek-e-Taliban Pakistan (TTP) spokesman Ehsanullah Ehsan, have already been punished.
Director General Inter-Services Public Relations (ISPR) Major General Babar Iftikhar said while speaking to foreign journalists at the ISPR office in Rawalpindi that efforts are being made to re-arrest the former Taliban spokesman. He said it was a sensitive matter and action against Army officials responsible for his escape was taken after thorough investigation.
Ehsanullah Ehsan had presented himself to intelligence agencies on February 05, 2017 and remained in custody ever since, but in February 2020, it was revealed that he escaped from the custody of security forces during an operation against terrorists conducted on the basis of information provided by him.
The DG ISPR said the account used for threatening messages by the former TTP spokesman against Nobel Prize Laureate Malala Yousafzai was found to be fake.
Babar Iftikhar said that 4,000 out of the 6,000 cases have been resolved by the commission on missing persons and further progress in this regard is expected soon. He said the issue of missing persons will be resolved soon.
The military spokesman said some suspects have been arrested over the killing of 11 coalminers belonging to the Hazara community in Ketch area of Balochistan.
Babar Iftikhar said that activities of organised terrorist outfits had been curbed in Waziristan and other areas and now they do not have the capability to launch a major offensive in the area. However, he added, that a few incidents of violence have been reported recently.
Babar Iftikhar said Pakistan wants peace in Afghanistan at all costs and has done what it could in this regard. He said that Pakistan has used whatever influence it has on Taliban in this connection. He said Pakistan has only one goal and that is to establish lasting peace in Afghanistan.
The military spokesman said India is supporting terrorists in Pakistan through Afghanistan. He said Pakistan has evidence that India is not only providing arms and funds to such extremist organisations but also introducing them to new technologies so their capabilities are enhanced.
Hits: 0