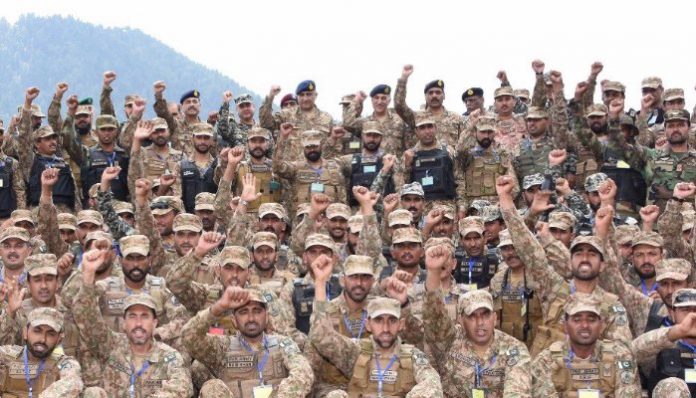 PESHAWAR: Prime Minister Imran Khan on Friday deferred imposition of complete lockdown in major cities with high coronavirus rate, and said help would be taken from the Pakistan Army for the enforcement of the coronavirus standard operating procedures (SOPs).
Imran Khan addressed the nation after chairing an important meeting of the National Coordination Committee (NCC) for sharing updates on the new coronavirus restrictions during the third wave of coronavirus which is proving more lethal than expectations.
The premier appealed to the masses to follow precautionary measures otherwise Pakistan may face the situation like India where the highest cases in the world were recorded in a single day on Thursday.
The premier warned that the situation was changing very fast and the government might have to impose a lockdown in days to come, which would be devastating for the economy and the poor. He said he is deferring the decision of lockdown for the consideration of the poor as they cannot afford to lose work.
The NCC meeting chaired by Prime Minister Imran Khan reviewed the prevailing coronavirus situation in Pakistan. The meeting was attended by chief ministers, ministers and chief secretaries, which reviewed the latest COVID-19 numbers and decided to impose further restrictions as the third wave of coronavirus wreaks havoc in Pakistan.
The prime minister said if precautionary measures were followed till Eid, Pakistan may not need to take steps India was taking. He appealed to Ulema to play their role in creating awareness like they did in previous Ramazan.
Schools closed, no Eid shopping after Iftar
Federal Minister for Planning Asad Umar while briefing the media about NCC decisions said all schools will be closed in cities where the positivity ratio is above 5 percent till Eid. He said classes 9-12 will also not be held in-person.
Markets to remain open till 6:00pm and only essential businesses can operate after that. Outdoor and indoor dining will be banned until Eid, and takeaway and deliveries will be allowed at hotels. Indoor gyms will also be closed till further orders. Offices will work with capacity at 50 percent and are to be closed daily at 2:00pm. No Eid shopping will be allowed after Iftar time. The policy of 50d percent work from home will also be implemented in offices.
Hits: 0