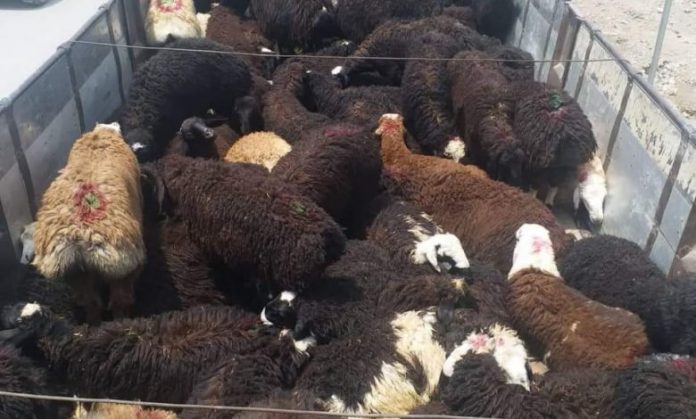 Mehrab Shah Afridi
LANDIKOTAL: The Pakistan government has announced Eidul Azha on July 21 although most of Afghan refugees in Khyber Pakhtunkhwa and those following the Saudi colander may observe Eid on July 20.
This is a huge religious obligation during which the Faithful, who can afford, perform the obligation of sacrifice. However, due to sky-rocketing inflation and increasing poverty ratio and other financial problems, this year too, many people will not be able to perform sacrifice.
Haji Dadin Khan, a cattle dealer in Landikotal tehsil of Khyber tribal district, told TNN that butchers in Landikotal bazaar used to purchase, slaughter and sale over 80 sheep during Eidul Azha before the coronavirus pandemic and still the demand remained on higher side. He said if the arrival of sheep from Afghanistan through Torkham border continued then its price in Landikotal will go down by Rs5,000 to Rs8,000.
On Saturday, the Pakistani Customs officials gave clearance to 31 sheep arriving from Afghanistan through Torkham border and sent them to quarantine centre. Every sheep costs Rs800 Customs duty upon arrival in Pakistan. It is expected that more trucks carrying sheep from Afghanistan will arrive in Torkham soon and after clearance these will be sent to Landikotal and then Peshawar's cattle markets.
Shahid Shinwari, a local resident, said if sheep from Afghanistan arrived in large number, then prices in the cattle markets in Peshawar will witness a considerable decrease.
"At present, sheep are available in the markets of Landikotal and Peshawar, and buyers are also taking keen interest, but they mostly return empty-handed after coming to know about hefty prices," Mr Shinwari told TNN.
He said the prices of sheep will decrees if these are supplied from Afghanistan, and then many people will be able to buy them for sacrifice. He said only three days are left in the Eid, and time is very short. Therefore, he said, the Customs officials must not delay the clearance and allow maximum number of sheep to arrive in Landikotal, because it will benefit both the sellers and buyers.
Shahid Shinwari said fewer people are currently buying sheep in KP presently due to very high prices.
Hits: 1