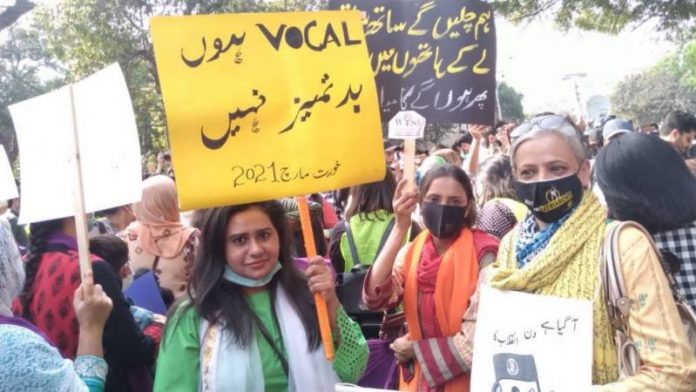 By Kainat Ali
The fact cannot be denied that Pakistan is among the few countries where women are facing uncountable and unending issues related to gender parity, domestic violence and other discriminations in social, political and economic sector.
Meanwhile, the population of women in Pakistan is almost 49 percent of the total population while according to a report of World Bank, the female labour force participation rate in Pakistan is 22 percent which is much lower than that of the male participation.
Besides many other issues it is also a fact that women in Pakistan are very vulnerable and exposed to domestic violence, social inequality and to the rigid norms of our social system. According to a latest report of World Economic Forum, Pakistan ranks 145 out of 150 countries where the women are given their basic rights and are empowered.
While explaining the issues faced by women on in Pakistan, Aurat Foundation,  a NonGovernment Organization working on the rights of women noted that during the annual reporting year July 2018-June 2019, violence against women and girls including rape, so-called honour killings, acid attacks, domestic violence, and forced marriage remained a serious problem.
It is further noted that early marriage remained a serious problem, with 21 percent of girls in Pakistan marrying before the age of 18, and 3 percent marrying before age 15. The Taliban and affiliated armed groups continued to attack schools and use children in suicide bombings in 2018. In August, militants attacked and burned down at least 12 schools in Diamer district of Pakistan's Gilgit-Baltistan region.
About the honour killing statistics which is locally known as karo-kari, it is noted that there were 1,276 such murders between 2014 and 2016.
On the other hand, various attempts made by the Government to improve the legal, socio-economic and political status of women are commendable, but they are few in number and have proven not to be very effective. The agenda for eliminating all forms of discrimination against women failed once again to make its place in the priority list of the Government. As a result, there remain numerous issues for women, resulting in de facto and de jure discrimination against them, which are either ignored by the Government, or are not sufficiently dealt with.
But despite all these unending problems and challenges which the women are facing there is still a ray of hope for women to get their basic rights in the form of "Aurat March" which has gained much attention and also a momentum since 2018.
Pakistan's Aurat March saw its debut on International Women's Day, March 8, 2018. A group of young progressive feminists initiated the march, initially receiving endorsement from the Awami Workers' Party, the Lady Health Workers Association, and multiple women's rights organizations.
The manifesto of Aurat March 2020, which called for the end of patriarchy, domestic violence, and harassment against women, increase in salaries and economic independence, better health and education facilities, and self-respect, was trampled under the foot. It is a sad reality that Pakistan is one of the worst countries for women to live in, which can be seen in the denial of social rights to women, discrimination, honour killings, brutal rapes and abductions, marital rapes, forced marriages, and induced abortions. This dark reality in our society has ranked Pakistan the 6th most unsafe country for women.
However, the opponents of the Aurat March tried a lot to make the movement controversial by misinterpreting the slogans of the March, "My body, my choice" which then remained a subject of criticism by the conservatives.
It must also be noted that the Aurat Azadi March this time should create posters showing determination, with "slogans of freedom", channelling "our collective sorrows & pain" for the fight for "Equality, Justice & Dignity and should avoid controversial placards as it can have bad impact on the status of the movement.
Hits: 24