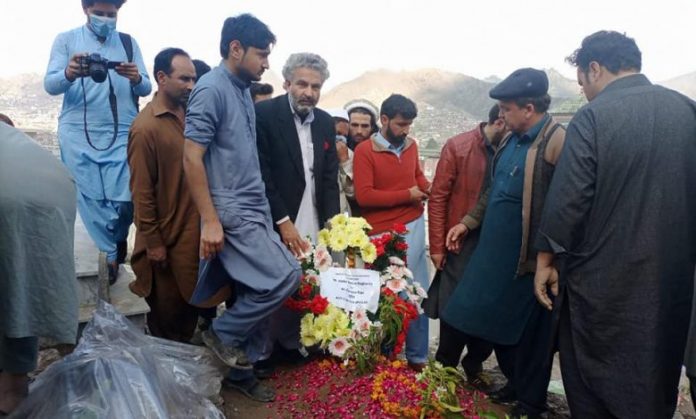 Usman Khan
PESHAWAR: Famed Pashto poet from Swat Abdul Rahim Roghani, also known as Baba-e-Qita, passed away on Wednesday at the age of 71 after a protracted illness.
Tributes started pouring in on social media after his fans and followers came to know about his death. The admirers say the death of Abdul Rahim Roghani is a major loss for Pashto literature and the void left by his death may never be filled.
Eminent Pashto poet and writer Noor Amin Yousafzai says Abdul Rahim Roghani had a unique style of poetry and his personal life was also different from contemporary poets. He says Baba-e-Qita always listened to the voice of his heart and acted accordingly. He says although the poetry of Abdul Rahim Roghani was not easy to understand for everyone, but it definitely had intellectual depth. He said the depth and intellectualism while exploring the poetry of Abdul Rahim Roghani is a fascinating experience.
Noor Amin Yousafzai says Abdul Rahim Roghani was rightly called Baba-e-Qita as his excellence in this genre was second to none.
Abdul Rahim Roghani got initial education in Swat and then got Master's degree in Pashto literature. He was appointed a government teacher, but he quit that job, saying that teaching is a huge responsibility and he was unable to do justice with that job. He was an honest and upright person and quit the job due to his sincerity instead of hanging around for monetary benefit.
Faiz Ali Khan Faiz, a Swat-based poet, says Abdul Rahim Roghani got the title of Baba-e-Qita because he wrote more on it as compared to other Pashto poets. He says Abdul Rahim Roghani always tried to bring innovation in literature. He says the poetry of Abdul Rahim Roghani mostly reflects popular sentiment that is why eminent singers like Haroon Bacha, Sardar Ali Takkar and others made songs on his poetry which were greatly liked by music fans.
Abdul Rahim Roghani showed his love for Pashto language and soil in his poetry, while he also took on the elites with criticism. Faiz says the poetry of Abdul Rahim Roghani was like a rainbow which has all the colours.
The famous poetry books of Abdul Rahim Roghani are Nawi Naghma, Zooredeli Ahsasaat, Sandez Ehsaas and Da Ranra Saaqi, while prose work includes Khud Gharz and Korbana Khialoona.
Abdul Rahim Roghani has left behind a widow, three sons and four daughters. He had been suffering from liver cancer for quite some time. He was hospitalised for one month in Saidu Sharif Hospital when his condition worsened but lost the battle for life there.
His funeral was offered in Gulkada area of Saidu Sharif and he was laid to rest at his ancestral graveyard.
Hits: 23