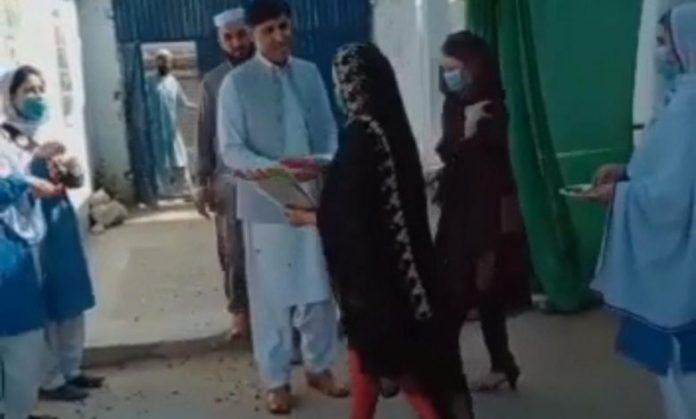 Zahid Jan
KHAR: The Elementary and Secondary Education Department of Khyber Pakhtunkhwa has issued transfer orders of District Education Officer (DEO) Bajaur Shireen Zada, Deputy DEO Sher Nawab and headmaster of Government Khar High School over a viral video on social media.
It can be seen in the video that the district education chief is visiting a girls' high school along with his colleagues, while the students of ninth and 10th grade are showering rose petals on them. Videos of this visit were also made which went viral on the social media.
The parents of girls' students strongly objected to the visit of male officers to the girls' high school. They questioned who has authorized high officials of education department to make girls stand in queues and shower rose petals on them. The parents also questioned the reason behind the visit and wondered why the education officers are more interested in visiting girls' schools.
The visit came despite ban on visit of male officers to the girls' schools. The provincial government has banned invitation of male dignitaries to girls' schools and colleges and also banned coverage of functions at girls' educational institutions keeping in view the local cultural aspects and requests of parents in this regard. The parents said the visit of male officials to girls' school is not only illegal after the directives of the provincial government, but also against the local tribal traditions and culture. They demanded strict action against the violators of rules.
Amid strong criticism on the issue on social media, the Education Department swung into action and issued transfer orders of DEO, DDEO and headmaster of the high school. The parents of the girls' students expressed satisfaction over the Education Department's decision.
Sources said the former education officer is already under investigation over alleged irregularities in purchase of schoolbags.
On the other hand, Shireen Zada has admitted his 'mistake' and said it was not a good idea to visit the girls' school. He said he made a mistake by visiting the girls' school, but his opponents are using this matter to defame him and hatching conspiracies to damage him.
Hits: 3