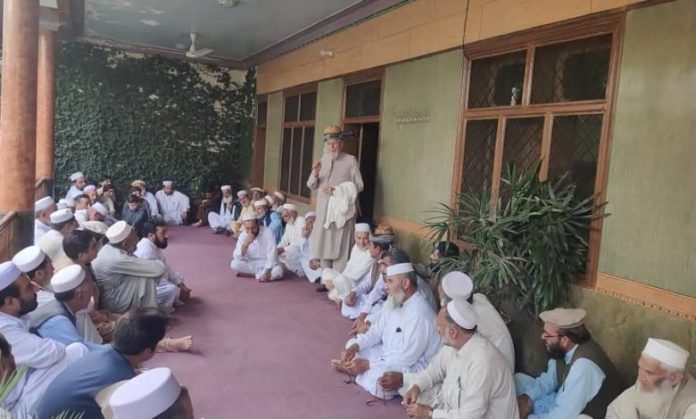 KHAR: Bajaur Qaumi Ittehad has vowed to continue struggle against what it termed the 'forced' merger of erstwhile Fata with Khyber Pakhtunkhwa.
A grand Jirga of Bajaur Qaumi Ittehad was held at the hujra (male guest house) of Malik Gran Badshah which was attended by elders of Tarkhani and Utmankhel tribes. Participants of the meeting said that they reject the 'forcible' merger of erstwhile tribal areas with KP. They said they would continue their struggle and efforts for establishing a Fata province with full authority like other provinces of the country.
The Jirga demanded the government to reverse the merger and revive the old system in which the tribal culture and traditions were protected. They said the people of merged areas have offered countless sacrifices for the country and they would never hesitate to offer more sacrifices. They said the government had promised mega development schemes and jobs at the time of the merger, but nothing happened.
The tribal elders said merged districts must get due share in the National Finance Commission (NFC) Award, China Pakistan Economic Corridor (CPEC) and exemption in taxes which were promised at the time of merger. They said the former Levies and Khassadar personnel of merged districts, who have been integrated into KP Police, must get incentives and benefits like other regular forces of the country.
The Jirga members expressed opposition to the police and patwar (land revenue) system and said they would never accept 'occupation' of mineral resources of merged areas by the provincial government. The Jirga formed committee to devise strategy for future struggle. The committees would present their recommendations in the next meeting of the Jirga on June 28 at Civil Colony Khar.
Erstwhile Fata was merged with KP by former federal government of the PML-N through a constitutional amendment after it was supported through massive movement by the local people. All the mainstream political parties, except the JUI-F had opposed the merger.
However, now after about three years after the merger, the pledges made by the government have not been fulfilled yet. Still the majority is in favour of the continuation of the merger process, some factions have still not accepted it.
Hits: 1