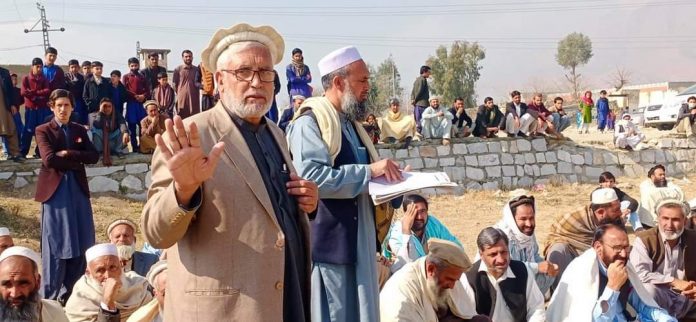 KHAR: The elders of different tribes of Wara Mamond tehsil in Bajaur tribal district have banned the women from visiting the Sada-e-Amn program centre or making calls to FM radio channels.
Sada-e-Amn Program has been initiated by the government to provide cash grant to women after delivery of babies. However, under the government policy, the women have to personally visit the office of the program to receive the money which has become a bone of contention as the tribal people say it is against tribal traditions, and the same grant should be provided to any male relative of such women.
The decision about ban on women was taken at a Jirga of tribal elders in Sewai Dam Johar area on Friday. In case of violation of the Jirga order, the family of the concerned woman will have to pay a fine of Rs10,000.
The Jirga also announced ban on visits of Banjari (vendors) selling various items of daily use at homes in Wara Mamond. They said the decision has been taken keeping in view the law and order situation in the area. The Jirga announced to organise an armed militia to destroy the hideouts of drug smugglers if the administration failed to eliminate drug trafficking in the area within a week.
The elders said the decisions are being taken in greater interest of the area and to protect local culture and traditions. They said another grand Jirga will be held next week to review implementation of the Jirga decisions and to further strengthen the strategy.
In December, after protest by different welfare organisations and other people for shifting of office of Sada-e-Amn program from Landikotal tehsil compound, the office was closed temporarily.
While addressing the protesters outside Landikotal compound, Landikotal Welfare Organisation president Akhtar Shinwari, Shinwari Youth Organisation leader Israr Shinwari and others said the office of Sada-e-Amn program must be shifted to another location from Landikotal tehsil. They said that at the existing location of the office, the issue of parda of women is surfacing which is against the tribal traditions.
The protesters also demanded that the Sada-e-Amn office must pay money to male members of family instead of females to avoid complications. They said they are not against Sada-e-Amn program, but actually they are against the mode of payment. They said women have parda issue at the payment centre which is intolerable under the tribal traditions.
Hits: 0