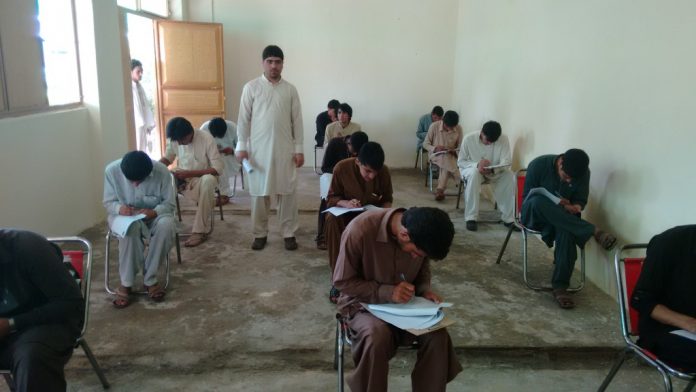 MARDAN: The Board of Intermediate and Secondary Education (BISE) Mardan had collected Rs343.4 million from students from ninth and 10th grade and first and second year for exams which did not happen due to coronavirus pandemic.
Therefore, the students have demanded that the exam fee must be reduced for them next time as the money is still in the account of the BISE Mardan. The demand was made during a meeting of Mardan Youth Parliament on Sunday. The meeting was chaired by the Youth Parliament Speaker Syed Sher Shah, which was attended by Commissioner Mardan Division Muntazir Khan, Additional Deputy Commissioner Finance and Planning Nek Muhammad, District Youth Officer Usman Khan and other notables.
The Youth Parliament members said the exams of matriculation and intermediate were cancelled last year due to coronavirus pandemic, but the BISE Mardan collected Rs343.4 million from 227,454 students as exam fee. They said the whole amount is still in the account of the education board as it only sent detailed marks certificates (DMCs) to students and did not spend any thing on exams. Therefore, they said, the BISE Mardan should now make concession with them in the exam fee for this year.
The students also rejected increase in the fees of Abdul Wali Khan University Mardan and said they would soon launch a protest movement against it.
The Youth Parliament also demanded complete ban on the use of plastic bags in Mardan, saying that polythene bags are still openly being sold in Mardan which is dangerous for environment and people's health. The students said they would fully participate in the awareness campaign of Water and Sanitation Services Mardan about discouraging the use of polythene bags and encouraging the use of clean water.
Commissioner Muntazir Khan appreciated the efforts of the Youth Parliament for resolution of problems faced by the people. He said it is very encouraging that the youth have stepped forward for betterment of society and he also expects fully cooperation from the youth with the administration in ending corruption. He said all the resources are being utilised to make Mardan city clean and green. He said sanitation staff deserves appreciation for their efforts in keeping the city clean.