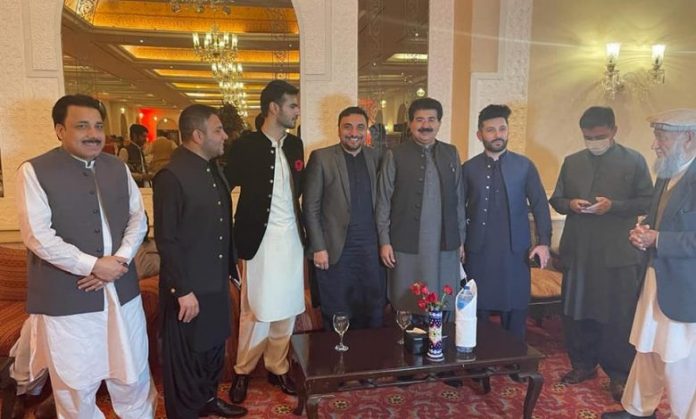 PESHAWAR: The wedding ceremony of Member Khyber Pakhtunkhwa Assembly Imrahim Khattak, son of Federal Defence Minister Pervaiz Khattak, with daughter of former federal minister and Pakistan People's Party (PPP) leader Nawabzada Khawaja Muhammad Khan Hoti, was held at Serena Hotel in Islamabad on Saturday.
On the important occasion of Ibrahim Khattak's Nikah and Barat functions, Pervaiz Khattak did not invite his younger brother Liaquat Khattak.
Differences between the two brothers surfaced over award of ticket for by-election in Nowshera after the death of Jamsheduddin Kakakhel due to coronavirus. Liaquat Khattak, who was a provincial minister, wanted the PK-63 ticket for his son, but Pervaiz Khattak gave the ticket to Umar Kakakhel, son of late Jamshed Kakakhel.
Tension kept on increasing as Liaquat Khattak decided to support the rival PML-N candidate against the PTI candidate Umar Kakakhel. An incident of firing was also reported on the public meeting of Pervaiz Khattak during the election campaign for the hotly contested seat. The PML-N candidate Ikhtiar Wali eventually won the seat which brought huge embarrassment for the PTI government in KP and was considered a huge upset. Further, Liaquat Khattak also arranged a music party at his hujra (male guest house) to celebrate the victory of Ikhtiar Wali.
Chief Minister Mahmood Khan took immediate action and removed Liaquat Khattak from the provincial cabinet. Before and after the Nowshera by-election saga, Liaquat Khattak is repeatedly asking Prime Minister Imran Khan to give him time for a meeting, but the latter has decided to ignore him over betraying the party during crucial time.
The wedding function on Saturday was attended by Senate Chairman Sadiq Sanjrani, Speaker National Assembly Asad Qaiser, Senators Shibli Faraz, Nayyer Bukhari, Mustafa Nawaz Khokhar, Qayyum Soomro, former senator Rahimdad Khan, former federal minister Muzaffar Shah, KP minister Shafiq Sher Afridi, MPAs Sahibzada Sanaullah, Amjid Khan Afridi, Bilawal Afridi and several other notables, particularly the PPP leaders.
Sources said the wedding guest did not observe standard operating procedures (SOPs) for coronavirus.
Family sources said the Waleema function of two sons of Pervaiz Khattak will be held at Manki Sharif, Nowshera on April 11.
Hits: 141