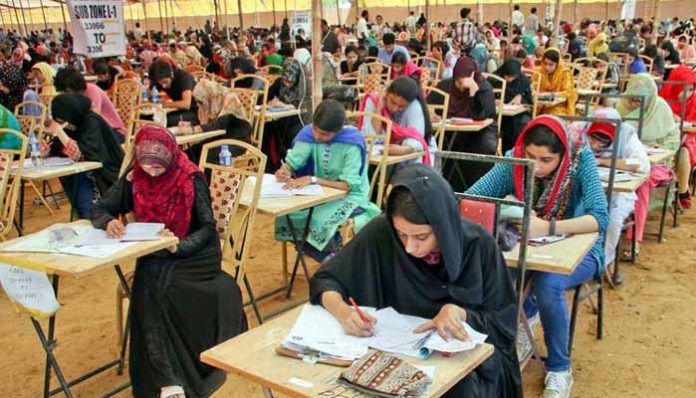 Rani Andleeb
PESHAWAR: Many candidates who appeared in exam for the vacant posts of teachers conducted by National Testing Service (NTS), a private testing agency, have complained about gross mismanagement during the conduct of tests.
The Elementary and Secondary Education Department of Khyber Pakhtunkhwa has again given the contract of appointment of different district cadre teaching posts to NTS and it has so far conducted tests for the posts of senior subject teachers (SST), physical education teachers (PET) and certified teachers (CT), while the tests for Arabic teachers (AT), drawing masters (DM), Qari/Qaria and primary school teachers (PST) are scheduled to be conducted this weekend.
"I was astonished to see sports-related questions in my CT paper. While seeing the rest of questions, I wondered as if I am attending a paper for Ph.D," says Sidra, who appeared in CT test from Peshawar.
Sidra says that in the era of high inflation and increasing competition, getting the government job is like a dream for the youth.
Kanwal from Peshawar also complains about deviation from paper pattern and says there were physics questions from second year course in her CT paper which she was unable to solve as she had done her SSC in arts.
Afshan, who have an IT diploma, says she appeared in the test last time, but this time she was rejected even before appearing in the test on the pretext that her diploma was not recognised for candidature. She says while attending the paper for PST or CT, the candidates get an impression as if they are attending papers for the posts of judges, as questions are very tough.
Few days ago, the Youth Wing of Jamaat-e-Islami held protest against mismanagement in NTS and ETEA tests and accused these testing agencies of promoting favouritism and culture of bribery.
Seema from Regi area says she was given exam hall at a very far located place where she reached with great trouble as such tests are accompanied by traffic jams on the roads due to huge number of candidates. She says she is unable to understand the logic behind preparing the toughest papers for low level posts.
Educationist Dr Muhammad Sohail says tests are conducted through testing agencies under the 1992 Education Policy. He said it is unfortunate that the standard of tests is very low.
Dr Sohail says the current tests are mostly based on knowledge-based questions, while training-based questions are missing. He said those developing the tests must focus on training-based questions.
Earlier, after the SST tests, many candidates had also raised questions about errors in the answer keys. However, the NTS had rejected those assertions as baseless.
Hits: 0