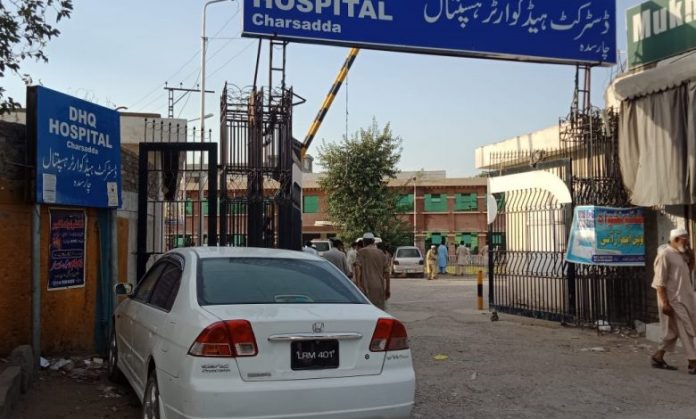 Basit Khan
CHARSADDA: The administration of District Headquarters Hospital Charsadda has banned media from making any kind of news coverage in the hospital.
Under the directions of Medical Superintendent (MS) Dr Jehanzeb Khan, banners have been displayed at different places in DHQ Charsadda Hospital where it has been conveyed to journalists and other people that no one is allowed to take any picture or make any news about the hospital matters. It said the patients can inform the management directly about any problems. It said those making news against the hospital administration will face legal action.
A girl died at DHQ Charsadda Hospital during treatment last month, and her parents blamed the hospital administration for negligence. The parents said their daughter was not provided oxygen in time, due to which she died. Afterwards, the hospital had banned 'unnecessary' x-ray, after which the patients were compelled to go for x-ray at private laboratories and spend from their own pockets.
Another report had also surfaced about provision of electricity from express line of the hospital to DC Office Charsadda. Sources said the MS misused his powers in giving the hospital electricity to the DC office and Charsadda Jail. The said issues got wide coverage in media due to which the hospital administration was under fire.
Journalists' reaction
Senior journalist Shabbir Jan, who is associated with Mashaal Radio, says the hospital administration can impose some rules for devising procedure for news coverage, particularly where the female patients are involved, but banning media from sharing news about public importance or about negligence of staff is illegal and unethical as well.
Shabbir Jan was of the view that harassment of journalists and censorship is seen everywhere since this government has come to power.
Lihaz Ali, a Peshawar-based senior journalist, told TNN that several incidents of exchange of hot words between the hospital administration and journalists have happened. He says journalists were free to report any issue in hospitals, but in 2014 a code of conduct was introduced under which the permission of hospital administration was declared mandatory for any news coverage.
Lihaz Ali says it is the professional right of journalists to report any mismanagement or highlight problems faced by patients. He says several institutions have issued notices to journalists just because they unmasked their irregularities. He agrees that a journalist should fully work objectively under the code of conduct and not act as a party to any dispute.
Hits: 12