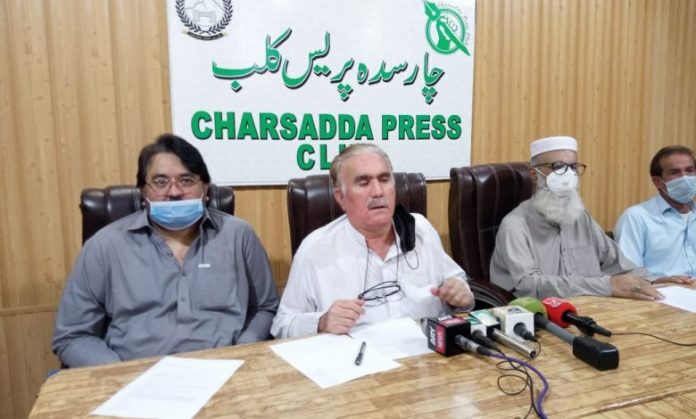 Muhammad Basit Khan
CHARSADDA: The third wave of coronavirus is also making its impact felt in Charsadda and the administration is imposing strict precautionary measures to stem the spread of the disease.
On Friday, social and political leaders of Charsadda held a press conference at the press club, and announced that it has been decided after consultations that government standard operating procedures (SOPs) would be followed strictly on the occasions of funerals and marriages and the ceremony of Qul on the occasion of deaths would not be observed till complete elimination of corona from the district.
Former district jail superintendent Falak Sher Khan said along with other area notables that it would be announced on the occasion of deaths that people should not come for condolence on second and third day of the death, while funeral would be performed with full SOPs. Only the close relatives would come for condolence.
Falak Sher said the decision has been endorsed by Khazikhel, Prichkhel, Kanankhel, Khattak, Anikhel, Shamoazai, Piran, Kakakhel and Syed families. He said no big function would be arranged on such occasions and the money would be distributed among needy people. He said unnecessary practices must come to an end and money used on such functions must be used to help the poor.
A committee comprising one member from each family was also formed for implementation of the Jirga decisions. He said the people of Charsadda are fully cooperating with the district administration for stemming the spread of coronavirus.
Former district nazim Naseer Muhammad Khan said while talking to TNN that the people of Charsadda would participate in every awareness campaign for saving the people from the pandemic. He said everyone must know that only the precaution can save people from this disease.
The former nazim said unnecessary traditions have increased in Pakhtun society which can easily be reduced.
According to the district control room, as many as 35,607 corona tests have been carried out in Charsadda out of which 3,306 came back as positive and 31 patients succumbed to corona.
Tariq Kakakhel, a social activist, said lifestyle must be adjusted according to the needs of time to avoid trouble.
Tariq, a local resident, said the government should help the people affected due to lockdowns by providing them cash grant, ration and other help. He said steps must be taken for early provision of vaccination to all citizens.
Hits: 2