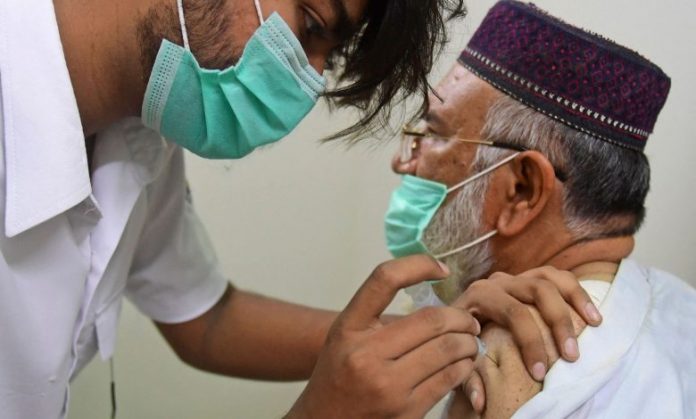 CHARSADDA: In a shocking development, it has been alleged that coronavirus vaccination entry is being made in the records in the major hospital in Charsadda without actual vaccination in return for bribe of just Rs1,000.
Sources said some entries for vaccination in the District Headquarters Hospital Charsadda are being made without actual vaccination and the some officials on duty accept bribe for doing so. The sources said it is well known fact that some people are not willing to undergo vaccination and they are always reluctant due to propaganda against it. However, the federal and provincial governments have made it mandatory for every adult to undergo vaccination and those not doing so would face different kinds of bans and they would not be able to conduct any official business. The mobile phone SIMs of unvaccinated people are also likely to be blocked and they may also face travel restrictions, besides problems are jobs.
This is the reason why everyone wants to get a vaccination certificate, but not all of them are actually vaccinated, the sources said. The sources said that entry for corona vaccination first and second dose can easily be done just by paying Rs1,000 bribe.
When contacted, Assistant Commissioner Adnan Jameel Khan told TNN that the district administration is very strict as far as coronavirus vaccination is concerned. He said a thorough inquiry will be held on this issue and anyone found involved in such practice will face strict action.
A policeman from a village near Charsadda told TNN on condition of anonymity that he knows several people, including policemen, who have got coronavirus vaccination certificates without even going for vaccination. He revealed that some people managed to get themselves registered in entry books without vaccination by using personal connections or acquaintance with vaccination staff, while others paid bribe for this purpose.
Zubair Khan, a senior bureaucrat based in Peshawar, said such people are bringing bad reputation for the country due to which it faces embarrassing issues like travel black-listing by UK etc. He said many people don't go for coronavirus test even after showing clear symptoms of the disease and indulge in self-medication. That is why, he said, the coronavirus data in our country is widely believed to be not authentic and the actual number of coronavirus infections are most likely to be much more than the official figures.