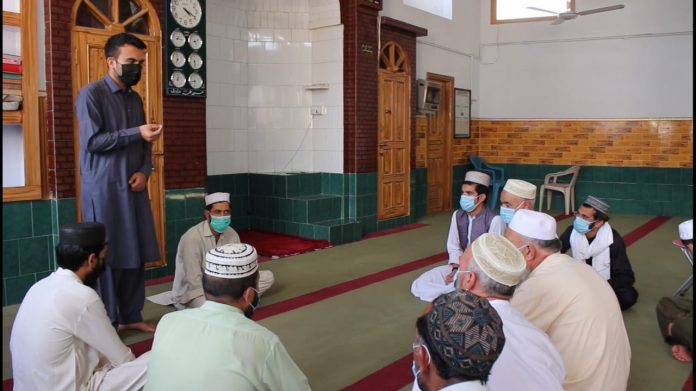 Junaid Ibrahim
SWAT: Coronavirus pandemic has caused millions of deaths all over the world. The virus believed to be originated from Chinese city of Wuhan in 2019 has now reached all parts of the world.
In Pakistan, the third wave of coronavirus is playing havoc currently, which is proving to be more dangerous than the first two waves. According to the National Command and Operation Centre (NCOC) one lakh doses of vaccines have been given to citizens all over the country in a single day and government started again from 3rd May to vaccinate as many people as possible.
The citizens of Khyber Pakhtunkhwa in this pandemic situation are running social media campaigns, personal callings and other ways to persuade people to get doses of vaccines.
Layya Sayyad from Balogram village of Swat, who is a student of class 6th, is also running a campaign with her father visiting people in markets, mosques persuading them to undergo corona vaccination. She told TNN she along with her father put posters on walls and vehicles as part of their campaign is to persuade the local people to get vaccinated to get rid of the pandemic, and to enable children go to school and play once again without any safety fears.
Like polio vaccine, the vaccination for corona is also seen by some elements as doubtful in Pakistan, where several people having ultra-conservative approach make propaganda against it.
Asadullah Khan, a resident of Tahirabad neighbourhood in Mingora City, who is a law and Sharia student in University of Swat, told TNN he goes to mosques to address people there and they listen to him.
"Wherever I go, I ask people to go for corona vaccination. My aim of running this campaign is to serve humanity," he said.
Thousands of people died of coronavirus in Pakistan last year, while the third wave is more deadly.
Zia Nasar, a social activist, said everyone is duty-bound to create awareness among the people about the importance of getting vaccinated, because it is the only way to build immunity against this disease.
"Whenever I go to market, I put posters on walls and urge people personally to follow precautionary measures and undergo vaccination. The pandemic has created a space between people, affected the economy, and everyone's life. We should run campaigns in mosques and public places to create awareness," he said.
Hits: 1