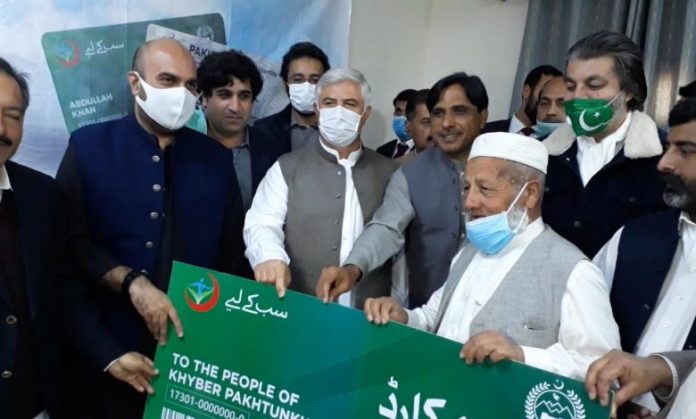 MARDAN: Khyber Pakhtunkhwa Chief Minister Mahmood Khan inaugurated various development schemes and also announced a number of new projects for Mardan during his visit to the district on Tuesday.
The chief minister inaugurated Safe City Project, administration block and gymnasium at Bacha Khan Medical Complex, and also launched Sehat Card Plus scheme for the entire population of Mardan. Under the Safe City Project, 72 CCTV cameras have been installed at 16 different spots of the district headquarters under the first phase which cost Rs13 million.
The Sehat Sahulat Programme was launched by the chief minister during a visit to the Medical Teaching Institution (MTI) Mardan. During the visit, Hospital Director Dr Tariq Mehmood briefed Mahmood Khan about Bacha Khan Medical College, Mardan Medical Complex and Benazir Bhutto Children Hospital projects. He said funds were needed for completion of development work at these projects. He said a cath lab, burns centre and issuance of notification of Nursing College and College of Medical Technology was also needed, and requested the chief minister to expedite the process. The chief minister issued instructions to relevant quarters to expedite the process. He also directed for resolution of problem of power supply at the MTI Mardan.
The chief minister announced Rs1.2 billion for healthcare facilities in Bacha Khan Medical Complex, Rs1.5 billion for Benazir Bhutto Children Hospital and District Headquarters Hospital, and Rs500 million for the establishment of cath lab in Bacha Khan Medical Complex.
Mahmood Khan also announced a package of Rs2 billion in the next budget for different road infrastructure projects in Mardan. He announced the construction of Tehsil Complex Building for the newly established Garhi Kapoora tehsil, establishment of two degree colleges in Mardan and to conduct feasibility study for Katlang-Jalala Expressway.
The chief minister also administered oath to the newly-elected office-holders of the Mardan Press Club at Bacha Khan Medical College Mardan.
Addressing a public gathering in Garhi Kapoora, Mahmood Khan said the Pakistan Democratic Movement (PDM) has been rejected by the people due to its self-centred agenda. He said the parties included in the PDM have ruined this country turn by turn and they now want to gain power again to continue playing havoc with the country. He also announced Rs5 million grant for the press club.
Hits: 1