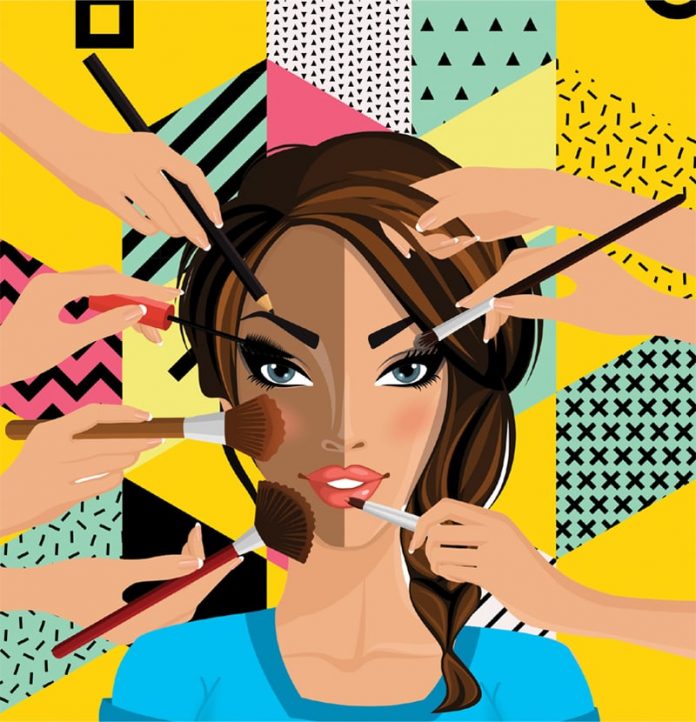 Lubna Aftab
PESHAWAR: Rida sat on the salon seat, appreciating herself in the mirror, her telephone pings, "send your image". She grins to herself and requests me to take a couple of pictures from her. As I click the screen, I see her eyes sparkle and her heart smile. It's the main day of her life. She resembles a princess, and I trust she gets treatment like one as well.
As she hit send on her phone, I started to gather her things and prepared to leave. I turned around, just to see her grin disappear and she had an abnormal baffled look all over. I expected it to be the regular wedding nerves. We sat in the vehicle and drove off to the wedding hall. She continued looking at her telephone and afterwards at me, as though she expected to ask me something. All of a sudden she asked, "me kali lag rahi hu"? (do I look dark).
I was surprised. I was truly speechless. Rather than addressing her inquiry I asked for what reason was she asking me a particularly silly thing. "My sister says I look brown".
My heart broke as I saw her bewildered expression. A similar young lady who was sparkling at herself ten minutes prior was presently stressed that she looks tan.
I stayed there attempting to console her, in the most delightful way that is available, that looking brown or tan has got nothing to do with looking wonderful. Be that as it may, be one way or another whatever I was saying looks bad to her. I went through the following 15 minutes attempting to persuade her that she looked excellent regardless, all without any result.
We arrived at the scene, and sat in the wedding room. Her loved ones came to see her.
That is when it hit me. We have partitioned ourselves into a shade graph and we choose the sort of treatment we give based on those shade diagrams. Then again, we live in the 21st century however our psyches are backward to the point that no cream can fix that. I checked across the room and I saw my companion, looking so wonderful but she looked so uncertain of herself. She glanced awkwardly in her own skin, with the manner in which she looked and regardless of how frequently I guaranteed her she wouldn't believe in it. And afterwards came her sister, the person who called attention to how dark the cosmetics was, with a look all over that I just can't remove from my head.
Rida walks towards the stage with her dad towards the one who will esteem her for the rest of her life. I remained there considering how miserable our general public is and how dismal they are as ladies. That we think our value relies upon what we look like and gauge.
We were remaining among the group and I heard a couple of her cousins remarked on what she looked like. "itni gori hai ye, ye kia kala krdea hai isko"? "bilkul achi nai lagrai" (she was so fair, but dark make-up has dented her beauty).
I needed to pivot and school them, yet I halted — since this around me was an outlook. An outlook that has been inserted into the minds and is developing like a sickness. We promote fairness creams, whitening and bleach creams with the possibility that you'll enjoy more in case you are reasonably looking.
Rida stayed there on the stage grinning and sparkling with joy yet I could see the hurt in her eyes. I needed to fault her for deduction along these lines, for allowing her sister to cause her to feel like this yet then, at that point I inquired as to whether it was actually Rida's deficiency? Who is really taking care of this beast of Gora rang? It is us females. We pass such slanderous remarks on young ladies, we subject them to discrimination in schools even in families.
Rida's reception was the following day and I got a call from her sister saying, "I have booked Rida for a meeting with another parlor, as no one enjoyed how earthy colored she looked today". Now I was seething with outrage, however I kept silent. I ought to have shouted out, yet of course does it truly matter what I say? I can't reveal to her that her assessment is nonsense? Thus I additionally succumbed to my own considerations of needing to express my genuine thoughts yet in addition feeling insignificant.
It makes me furious thinking about the quantity of young ladies who face the present circumstance consistently, who think they need to work extra harder to accomplish something in view of their color instead of somebody who has a lighter color.
The following day, I went to see Rida in the marriage room before her gathering. Her sparkle and bliss was emanating from her. She looked agreeable and fulfilled in her skin. As she is satisfied with what she looked reasonable today when contrasted with yesterday? Regardless of how impartial she is towards ethnic minorities, in her mind she is excessively delighted in looking white.
This abandons saying that ladies will in general take care of their own insecurities. They succumb to the pressure of looking a certain way and believe that that is the only way they are 'acceptable'. . I may sound ridiculous to numerous individuals, however I trust it is about time that young ladies assume responsibility for their own body, skin and shape. Nobody will reveal to them how they ought to and shouldn't look.
While growing up, I was essential for various exercises in school, on gender balance, environmental change, significance of instruction, ladies strengthening and so on yet I don't recollect whether we at any point had any conversation about white biases, colonization, prejudice or our set of experiences of rank framework.
No one ever asked, why these "empowered" and educated women have to stress about being rejected when it comes to finding a partner?
The possible lucky man and his mom expect young ladies to be really white and the whiter somebody is, there are more shots at getting hitched effectively, in this manner women, ruin their appearances with beautiful creams to accomplish that "faultless sparkle"
Pakistani media and entertainment industry impacts in keeping up with the mentality of beauty norms. In larger parts of movies, dramatizations, shows, and so forth entertainers are white looking and villains are darker (Shanker and Subish, 2007). Regardless of whether, a large number of the entertainers are not white looking, it is ensured that they come as white looking on screen.
The movies show, for ladies to be attractive to men, they must be lighter looking. To make the circumstance most noticeably awful, a significant number of the "entertainers" in Pakistan endorse skin whitening items.
The business market is reliant on the "film stars" to expand the worth of the item in the market in light of the fact that the everyday citizens in the nation follow these "stars" strictly. They are fixated on them. Subsequently, when they see their #1 entertainer in the ads utilizing the item, they will in general get it.
The possibility of whiteness isn't simply looking excellent yet it is related with progress, attractiveness, satisfaction and so forth
"Kids look great when they are glad" "For dark, tanned, and earthy colored skin young ladies, Zubeda sister brought for them the Zubeda whiting cleanser" "Since beauty begins with color (white skin.)" "Utilize this cleanser consistently and get gleaming and white skin" "Presently Pakistan will, be lighter looking"
Different models incorporate, reasonable and beautiful cream, Faiza beauty cream, Golden pearl whitening cream, LUX beauty cleanser and so forth
Media outlets and individuals in power need to treat these issues in a serious way, they should be instructed on such issues so they understand the effects of embracing a whitening cream on young ladies.
We live in the 21st century, yes we need to look past external beauty, yes we need to quit advising individuals how to carry on with their lives however in particular we need to reveal to ourselves that. So the following time somebody calls attention to how dim you look, or how terrible our skin is or how much weight we have put on, we have the guts to face these comments.
Hits: 1