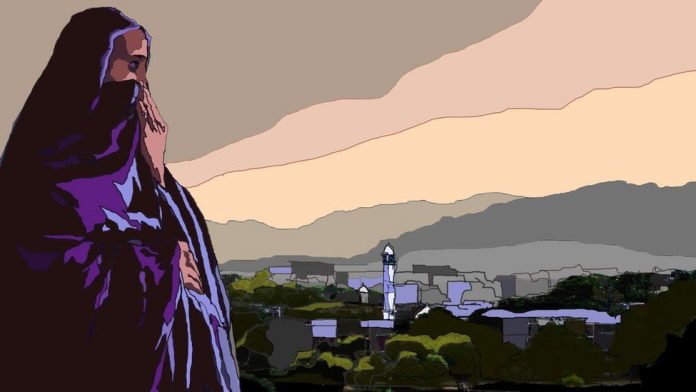 Lubna Aftab
PESHAWAR: Why are you tired soon? Get up, give me a glass of water. You girls remain free the whole day at home and still look tired.
Girls come across such comments several times but no one tries to figure out what actual work the females do at home.
Have you ever imagined switching jobs? No. Because many can't consider the other person work. Let me give you a brief visit of work which at end comes across a comment, "girls are always tired after doing nothing at home the whole day."
In Shergarh, Mardan, a girl Sumbal's has three sisters, as many brothers, mother, father, grandmother and two paternal sisters. Now excluding four male family members, home is left with seven females. The elder grandmother is responsible for attending the guests and giving them company. The mother and the paternal sisters commonly called phopo engage themselves in cooking. The three girls are responsible for preparing food, washing utensils and serving food to guests.
Hence, the duties were divided, males are responsible for taking food from home and distributing it to all village houses door to door and attending guests at Hujra or drawing room. Females are responsible for preparing food, cleaning house and utensils, clothes, and attending female guests.
Looking into the routine, females get up first early in the morning before males to ensure water availability and breakfast preparation for them. Then, the gents wake up. Males have more choices of breakfast menu than females. As they are tired after finishing kitchen work for breakfast, they eat what's available first hand.
Then starts the appetizer, main course and desert preparation. First clean the whole big village house and get dressed in Eid clothes. Here, the party starts. Guests start arriving, the duty time is on, food including a daig (huge bowl) of boiled meat, rice, thikka and liver called kaleje is respectively prepared. It means four separate dishes are prepared in huge quantity. Home bread known as roti is prepared in amounts of 90 to 100 at minimum. Not only this, tea, bakery biscuits, sweets, fruits also accompany the food for every individual.
After the whole food is ready, they are placed in plates and trays to start distributing among guests and houses as time by time people arrive. The whole process takes three to four hours from 8:00am to 11-12:00am. It seems easy in hearing but makes the feet swell out.
Next is the turn to clean the whole dishes and the house and place it back to their original place for use of lunch. When one looks at the used dishes they may think it was of some house having a wedding ceremony because the number of dishes is huge and difficult to imagine. During the cleaning process, males usually prefer to take some rest to ease their bodies after hectic hours.
Afterwards comes the preparations of lunch for family members and leftover guests with the best three to four dishes. Again the cycle repeats of preparing food, distributing and washing dishes along with cleaning house. This cycle repeats with every lunch, tea time and dinner until all guests leave and all members are tired and it's night.
And then males come and say: "Why are you tired? Get up, give me a glass of water. You were free the whole day at home and still looking tired."
It's all normal because it's the duty of females but men don't notice it usually.
The smile. Yes, the smile which prevails the whole day on the female face, alongside meeting guests, doing homework and preparing food in front of fire in this summer peak time when sweetening is not easy to tolerate.
So, don't pass comments until you walk in others shoes. You will be very active, energetic and skillful but you can't meet the love, efforts and patience level of a mother, sister and house females. They are tired even then they get up to serve men water, food and fulfill their needs.